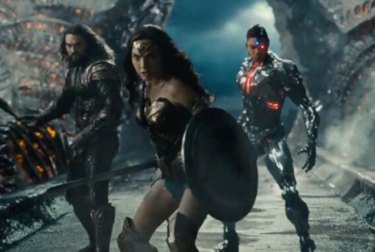 HBO is serious about keeping you entertained in March. Coming next month to HBO and HBO Max is a plethora of movies and shows. So many, in fact, you'd have to watch a double feature every night to get through all of them — which actually sounds pretty great. Sign us up.
Most notably, the HBO Max Original Film ​Zack Snyder's Justice League​ will premiere on March 18 starring Gal Gadot, Ben Affleck, Henry Cavill, Jason Momoa, Amy Adams, and Amber Heard.
Other highlights include three ​Oceans 11​ movies, six ​Rocky​ movies, three ​Beverly Hills Cop​ movies, ​Driving Miss Daisy​, ​The Lost Boys​, ​The King's Speech​, ​Pitch Perfect​, ​Speed​, and ​Wedding Crashers​. Plus, the premiere of ​Covid Diaries NYC​, a documentary that offers an unfiltered glimpse into NYC's handling of the first wave of the pandemic. You'll also be able to watch Tina Turner's documentary ​Tina​, which is likely going to be simply the best.
Adventureland, 2009 (HBO)
Assault On Precinct 13, 1976 (HBO)
Assault On Precinct 13, 2005 (HBO)
The Brothers Grimm, 2005 (HBO)
Charlotte's Web, 2006 (HBO)
Dr. Dolittle 2, 2001 (HBO)
Fierce People, 2007 (HBO)
Final Analysis, 1992 (HBO)
Finding Neverland, 2004 (HBO)
Going In Style, 2017 (HBO)
Hard, Season 2 Premiere (HBO)
Henry Poole Is Here, 2008 (HBO)
Immigration Tango, 2011 (HBO)
Jungle Master, 2014 (HBO)
Just Before I Go, 2015 (HBO)
Leonard Cohen: I'm Your Man, 2006 (HBO)
Live By Night, 2016 (HBO)
Machine Gun Preacher, 2011 (HBO)
Man On A Ledge, 2012 (HBO)
No Se Aceptan Devoluciones (AKA Instructions Not Included), 2013 (HBO)
One More Time, 2016 (HBO)
Our Brand Is Crisis, 2015 (HBO)
Parental Guidance, 2012 (HBO)
Pitch Perfect, 2012 (HBO)
Princess Kaiulani, 2010 (HBO)
The Quiet Ones, 2014 (HBO)
The River Wild, 1994 (HBO)
Stand Up Guys, 2013 (HBO)
Tim Burton's Corpse Bride, 2005
The Undocumented Lawyer, 2021 (HBO)
Unforgettable, 2017 (HBO)
Wiener Dog Internationals, 2017 (HBO)
Hunter x Hunter (Dubbed, Episodes 100-148) (Crunchyroll Collection)
Persona: The Dark Truth Behind Personality Tests, HBO Max Original Documentary Premiere
No Matarás (AKA Cross The Line), 2021 (HBO)
Re:ZERO – Staring Life in Another World, Season 2 (Dubbed, Episodes 14-25) (CrunchyRoll Collection)
The Investigation, Limited Series Finale
Ballmastrz: 9009, Season 2
Covid Diaries NYC, Documentary Premiere (HBO)
Genera+ion S1A, HBO Max Original Premiere
South ParQ Vaccination Special
Tig n' Seek, Season 1B Premiere
Nuestras Madres (AKA Our Mothers), 2021 (HBO)
Allen v. Farrow, Documentary Series Finale
Food Wars! Shokugeki no Soma, Season 5 (Dubbed) (Crunchyroll Collection)
Superman: The Animated Seires
Zack Snyder's Justice League, HBO Max Original Film Premiere
A Tiny Audience, Season 2 Premiere (HBO)
Beverly Hills Cop, 1984 (HBO)
Beverly Hills Cop II, 1987 (HBO)
Beverly Hills Cop III, 1994 (HBO)
Beartown, Limited Series Finale
Real Sports With Bryant Gumbel (HBO)
Hotel Coppelia, 2021 (HBO)
Tina, Documentary Premiere (HBO)
The Last Cruise, Documentary Premiere (HBO)
Godzilla vs. Kong, 2021, Warner Bros. Film Premiere, 2021