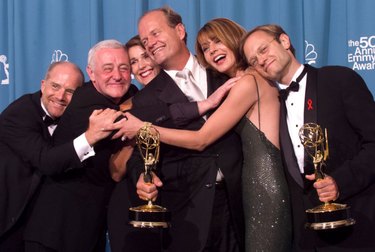 ​Frasier​ is joining the ranks of practically every other show from the '90s and getting a reboot. Paramount+, formerly known as CBS All Access, is bringing back the beloved show, 16 years after the last episode aired.
The ​Cheers​ spinoff ran for 11 seasons from 1993 to 2004 and starred Kelsey Grammer as psychiatrist Dr. Frasier Crane; Jane Leeves as Daphne Moon; David Hyde Pierce as Niles Crane; and John Mahoney as Martin Crane, who sadly died in 2018. The show won a whopping 37 Emmy Awards.
Paramount+ tweeted that the revival "will have everything you love about the original: coziness, great writing, and of course, a cast led by @KelseyGrammer."
The reboot will be written by Chris Harris (​How I Met Your Mother​) and Joe Cristalli (​Life in Pieces​), according to Variety.
"Frasier is one of the most acclaimed comedies in modern television history and truly defines premium storytelling," CBS Studios president David Stapf said. "There has long been a call from fans for its return, and that call is now answered thanks to the amazing Kelsey Grammer reprising his iconic role of Dr. Frasier Crane and a brilliant creative plan from Joe, Chris and Kelsey. We can't wait to reveal its next chapter on Paramount+."
So far, Grammer is the only cast member confirmed for the reboot, but rumors have been circulating that other original cast members will also be reprising their roles.
There's no set date for the new series, but it's expected to premiere in 2022.