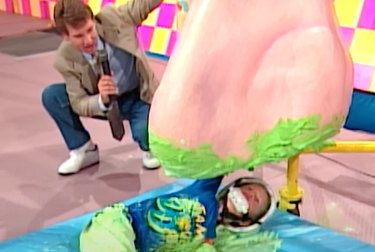 Paramount+ is the latest streaming service to launch right into our lives whether we like it or not. Sure, we can choose not to give them our money in return for some really excellent programming, but then we'd miss out on a new reunion season of the original cast of MTV's ​The Real World​, a reboot of ​Frasier​, a reboot of ​Rugrats​, and new ​Star Trek​ series.
But the most important reason to sign up for Paramount+ (this is not an ad, promise)? Nostalgic TV shows. From the vaults of networks like Nickelodeon, MTV, VH1, and Comedy Central, Paramount+ is streaming hundreds of episodes of the absolute best '90s shows you probably forgot about but definitely need back in your life.
Over 200 EPISODES OF ​DOUBLE DARE​ ARE STREAMING ON PARAMOUNT+! Sorry for the caps, it's just a really exciting time to be alive.
Mark Summers hosted the original game show where kids had to correctly answer trivia questions, take pies to the face during physical challenges, and pick a massive nose in the final obstacle course — all to win a VCR with dual remote control, a new bike, or a stay at a random hotel adjacent to Disney World.
Are You Afraid of the Dark
The show that likely gave you nightmares and can now give your kids nightmares. The group of kids that made up the Midnight Society gathered around a campfire in the woods every week to tell spooky stories that usually involved ghosts, curses, and neighbors who were undercover goblins. It was terrifying, but that didn't stop you from watching, and it won't stop you from watching all over again.
​VH1 Storytellers​ was a concert series where popular singers, songwriters, and music groups performed their songs and told the stories behind their music. There are only a handful of episodes to watch on Paramount+, but if this show was your jam, it's totally worth it.
This show was one of MTVs staples in the '90s. ​Unplugged​ featured major artists playing acoustic versions of their popular songs. The streaming service only offers a select few episodes, including Nirvana's famous performance, which was also released as an album, as well as episodes featuring Pearl Jam, Alanis Morissette, John Mellencamp, and Lenny Kravitz.
The last episode of ​Family Ties​ aired in 1989, but it's worth mentioning that all seven seasons of this show is coming to Paramount+. Starring Michael J. Fox, Meredith Baxter, Michael Gross, and Justine Bateman, it's one of the greatest family sitcoms ever made. We could all use some of that wholesomeness right about now.