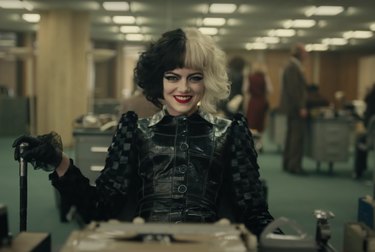 Disney+ is bringing on some fun new content in May that'll keep the kids entertained, but also the grown ups. Remember the film ​Wld Hearts Can't Be Broken​? It's debuting on the platform next month, and it'll take you right back to wherever you were in 1991.
Perhaps the biggest thing coming in May is ​Cruella​, a live-action film about the rebellious younger days of the notoriously villainous Cruelle de Ville. Starring Emma Stone as Cruella and Emma Thompson as Baroness von Hellman, the film will be released simultaneously in theaters and on Disney+ as a $30 Premiere Access title.
As for those who are mourning the temporary loss of ​The Mandalorian​, ​Star Wars: The Bad Batch​ is a new series premiering next month that's both a sequel and a spin-off to ​Star Wars: The Clone Wars.​
Check out everything coming to Disney+ in May:
Star Wars: The Bad Batch: Episode 101
Disney Wander over Yonder (S1)
Disney Wander over Yonder (S2)
Wild Hearts Can't Be Broken
Fantastic Fur: Rise of the Silver Surfer
The Mighty Ducks: Game Changers: Episode 107
Star Wars: The Bad Batch: Episode 102
Disney Special Agent Oso (S1)
Disney Special Agent Oso (S2)
Disney Special Agent Oso: Three Healthy Steps (S1)
Race to the Center of the Earth (S1)
High School Musical: The Musical: The Series: Episode 201
The Mighty Ducks: Game Changers: Episode 108
Star Wars: The Bad Batch: Episode 103
Disney Big City Greens (S2)
Disney Junior Mickey Mouse Mixed-Up Adventures (S1)
Tinker Bell and the Legend of the Neverbeast
Fury Files (Interstitials)
Running Wild with Bear Grylls (S6)
High School Musical: The Musical: The Series: Episode 202
The Mighty Ducks: Game Changers: Episode 109
Star Wars: The Bad Batch: Episode 104
Disney Sydney to the Max (S3 – Episodes 1-8)
Kingdom of the Polar Bears (S1)
Wicked Tuna (S10 – Episode 1-7)
High School Musical: The Musical: The Series: Episode 203
The Mighty Ducks: Game Changers: Episode 110
Star Wars: The Bad Batch: Episode 105