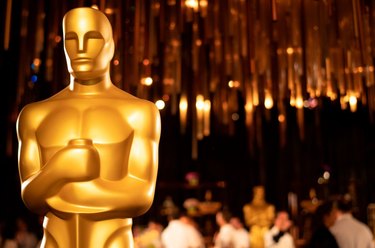 The 93rd Oscars are happening this Sunday, April 25. This may be surprising, but the ceremony will be held in person (safely socially distanced and presumably with lots of designer masks) at Union Station in Los Angeles, with other events taking place at the Dolby Theater, the traditional home of the Academy Awards, as well as via satellite from London and Paris for the winners who can't make it to Los Angeles.
The entire event will be much smaller than usual, with only the nominees, their guests, and presenters in attendance — all of who will have gone through multiple COVID tests and a required quarantine period.
When time are the Oscars?
The Oscars will air on ABC at 5 p.m. PT/8 p.m. ET. Red carpet coverage begins at 3:30 p.m. PT/6:30 p.m. ET.
Which celebrities will be at the Oscars?
It isn't the Oscars without a stellar cast of celebs. For the past two years, the show hasn't had a host, and it's actually worked out pretty well. That will be the case again at this weekend's ceremony, but there will be appearances by plenty of A-listers, including Brad Pitt, Laura Dern, Joaquin Phoenix, Renee Zellweger, Angela Bassett, Halle Berry, Don Cheadle, Bryan Cranston, Harrison Ford, Regina King, Marlee Matlin, Rita Moreno, Reese Witherspoon, and Zendaya.
There will be musical appearances by Elton John, Janelle Monae, Eminem, Billie Eilish. H.E.R., Leslie Odom Jr., and Swedish singer Molly Sandén is performing "Husavik" on location in Húsavík, Iceland.
The Academy Awards will air on ABC and will be viewable on the ABC app, but you'll need to be a cable subscriber to access either. You can also stream the event on YouTube TV, AT&T TV, FuboTV, and Hulu with Live TV.
You can get into the Oscar spirit and put on your fanciest clothes and throw a watch party — even if the guests consist of just you, your family, and your dog. Pajamas work great, too.