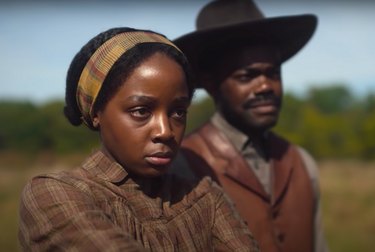 Next month, you'll be able to watch a slew of older movies, including ​Aliens​, ​How Stella Got Her Groove Back​, ​Flightplan​, ​Scent of a Woman​, ​Rio​, ​Resident Evil​, ​The Secret Life of Bees​, ​The Indian in the Cupboard,​ and ​The Sixth Sense.​
If seeing dead people isn't your thing, check out ​P!nk: All I Know So Far​, a behind-the-scenes look at P!nk as she balances being a wife and a mom while on the road.
Also coming in May is the highly anticipated ​The Underground Railroad​, a 10-episode limited series from director Barry Jenkins, based on the Pulitzer Prize-winning alt-history novel by Colson Whitehead. The story follows Cora (Thuso Mbedu) as she escapes from a slave plantation using an underground railroad while being chased by a bounty hunter.
Here's everything coming in May:
Alien: Resurrection (1997)
Deuce Bigalow: Male Gigolo (1999)
How Stella Got Her Groove Back (1998)
Nanny McPhee Returns (2010)
Resident Evil: Apocalypse (2004)
See No Evil, Hear No Evil (1989)
The Age of Adaline (2015)
The French Connection (1971)
The Haunting in Connecticut 2: Ghosts of Georgia (2013)
The Indian in the Cupboard (1995)
The Men Who Stare at Goats (2009)
The Secret Life of Bees (2008)
The Sweetest Thing (2002)
The Towering Inferno (1974)
The Boy From Medellín – Amazon Original Movie
The Underground Railroad – Amazon Limited Series
P!nk: All I Know So Far – Amazon Original Movie
Solos – Amazon Original Series: Limited Series
Panic – Amazon Original Series: Season 1