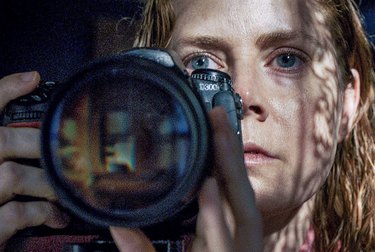 Here it is — the coveted list of all the movies, TV series, and originals coming to Netflix in May. The streaming platform is doing its part for humanity by bringing on a whole bunch of new content next month.
If Netflix Original series are your thing, you'll be happy to know that several fan favorites are returning for new seasons, including ​Lucifer​, ​Selena: The Series​, ​The Kominsky Method​, and the popular Mexican thriller ​Who Killed Sara?​
Movie fans might want to check out Zack Snyder's ​Army of the Dead​, a zombie/casino heist flick and ​The Woman in the Window​ starring Amy Adams.
And a PSA for fans of ​Sherlock​, seasons 1-4 will be leaving Netflix on May 14. Check out all the new content below.
AlRawabi School for Girls — Netflix Original
Amy Tan: Unintended Memoir (2021)
Halston — Netflix Original
Mad for Each Other — Netflix Original
Master of None — Netflix Original
Racket Boys — Netflix Original
Ragnarok: Season 2 — Netflix Original
Angelina Ballerina: Season 5
Angelina Ballerina: Season 6
Back to the Future Part II
Back to the Future Part III
Barney and Friends: Season 13
Barney and Friends: Season 14
Fun with Dick and Jane (2005)
G.I. Joe: The Rise of Cobra
Madagascar 3: Europe's Most Wanted
Resident Evil: Extinction
The Land Before Time II: The Great Valley Adventure
Zack and Miri Make a Porno
Selena: The Series: Part 2 — Netflix Original
Trash Truck: Season 2 — Netflix Family
The Sons of Sam: A Descent into Darkness — Netflix Documentary
Girl from Nowhere: Season 2 — Netflix Original
Jupiter's Legacy — Netflix Original
Money, Explained — Netflix Documentary
Dance of the Forty One — Netflix Film
The Upshaws — Netflix Original
Castlevania: Season 4 — Netflix Anime
Haunted: Season 3 — Netflix Original
I Am All Girls — Netflix Film
Jungle Beat: The Movie — Netflix Family
Love, Death & Robots: Volume 2 — Netflix Original
Move to Heaven — Netflix Original
The Strange House — Netflix Film
The Woman in the Window — Netflix Film
Sardar Ka Grandson — Netflix Film
Who Killed Sara?: Season 2 — Netflix Original
Special: Season 2 — Netflix Original
Spy Kids: All the Time in the World
Army of the Dead — Netflix Film
Jurassic World Camp Cretaceous: Season 3 — Netflix Family
The Neighbor: Season 2 — Netflix Original
Sam Smith: Love Goes —Live At Abbey Road Studios
Baggio: The Divine Ponytail — Netflix Film
High on the Hog: How African American Cuisine Transformed America — Netflix Documentary
Nail Bomber: Manhunt — Netflix Documentary
Black Space — Netflix Original
Blue Miracle — Netflix Film
Soy Rada: Serendipity — Netflix Comedy Special
Dog Gone Trouble — Netflix Family
Lucifer: Season 5 Part 2 — Netflix Original
The Kominsky Method: Season 3 — Netflix Original
Dirty John: The Betty Broderick Story
The Parisian Agency: Exclusive Properties — Netflix Original