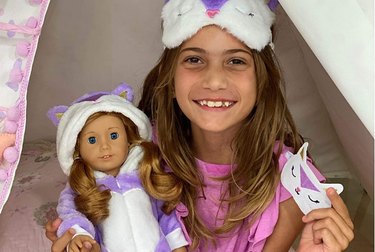 American Girl dolls are great for lots of reasons. The 18-inch dolls spark imagination and help kids develop their social and emotional skills, plus they're culturally diverse, portraying 8 to 12-year-old girls from a variety of ethnicities, faiths, and social classes from different time periods throughout history.
There's one major downside though — they're ridiculously expensive. Once you've spent upwards of $110 on the actual doll, she then needs accessories — everything from doctor's offices to bikes to wheelchairs to clothes. You might have to pick up another job just to be able to afford all the crap. (It's not actually crap, we're just mad about it.)
Well, we found a way around spending all your money on American Girl clothes — you can buy them for cheap on Amazon (relatively speaking) from companies that aren't American Girl, but make their clothes and accessories. For example, a pair of matching pajamas for your daughter and the doll will run you about $68 on the American Girl site. On Amazon, you can snag them for less than $25.
Here are some of Amazon's options: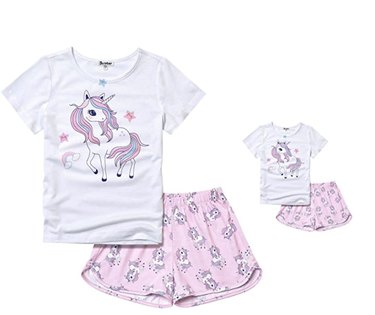 Your daughter (or son) will love these matching unicorn pajamas. They come in a variety of designs. According to reviews, the material is on the thin side, but totally worth not spending $70.
One reviewer wrote, "I bought these for my daughters and niece for our beach trip. They are obsessed with unicorns, and needless to say they loved them! Plus, they had matching outfits for their dolls! Definitely recommend. Made with good material. Better than what I thought I was going to get!"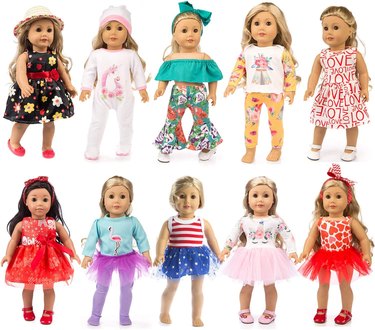 With this set, your child will be able to style their doll differently every day of the week and then some. The pack includes seven skirts, four tops, three pants, two hats, and three hair bands.
One reviewer wrote, "These outfits are so cute and made really well. They fit American Girl Dolls absolutely perfectly, would definitely recommend to anyone who is looking to buy American Girl Clothes for a cheaper price."
This Magic School Uniform Set, AKA knock-off Harry Potter set, is super cute and a much more reasonable price than it should be. It comes with a school uniform, robe, tie, shoes, socks, wand, glasses, and even a magic book.
One reviewer wrote, "My daughter loved it! Really good quality. Loved everything down to the robe with the Gryffindor emblem and little wand."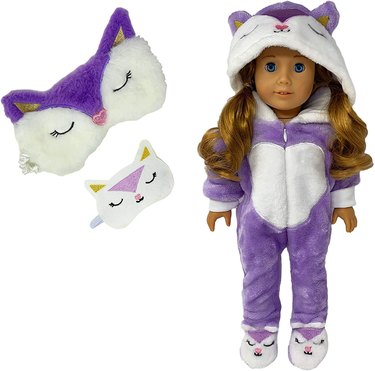 Here's an adorable fox onesie for your kid's doll that comes with matching sleepover masks. Also available is a giraffe, panda, and a bunny.
One reviewer wrote, "My daughter loves all the clothes we get from My Genius Doll clothes. We are never disappointed. The Fox onesie pajama is so cute and soft. My daughter loves that it comes with an eye mask for her also."
The cutest moon and stars matching pajama set for both your child and the doll. We love that it isn't too feminine and can be worn and loved by all kids who may or may not identify with pink or other stereotypical "girl" colors. This set comes in nine designs.
One reviewer wrote, "Wonderful pajamas. I can't say enough about how great these are. They fit an American Girl doll perfectly and my daughter loves being twins with her doll. My recommendation is to order one size up."