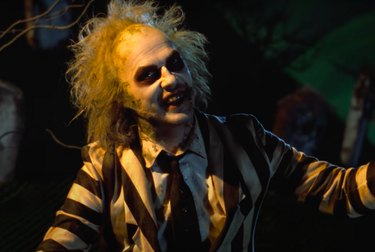 Things are heating up over at Hulu next month just in time for it to be too freaking hot to go outside. If you're feeling nostalgic, you'll be pleased to know that the ​Robocop​ trilogy is hitting Hulu, as well as more classics including ​Rookie of the Year​, ​Seabiscuit​, ​Fargo​, ​Dumb & Dumber​, ​Beetlejuice​, ​Coyote Ugly​, ​Stand By Me​, ​The Terminator​, and ​Space Jam.​ So yeah, the couch is calling your name.
​The Polar Express​ will also make its way to the streaming platform on the first of the month, because what's July without a little Christmas?
As for noteworthy new content, ​McCartney 3, 2, 1,​ is a new docuseries where Paul McCartney and music producer Rick Rubin sit down for a one-on-one to discuss some of McCartney's biggest hits.
Of course, there's a lot more to check out. See the full list below.
The Mighty Ones: Complete Season 2 (Hulu Original)
RuPaul's Drag Race: Complete Season 7 (MTV)
78/52: Hitchcock's Shower Scene (2017)
The Adventures of Hercules (1985)
Alpha & Omega: Legend Of The Saw Toothed (2014)
An Acceptable Loss (2019)
Beats, Rhymes & Life: The Travels Of A Tribe Called Quest (2011)
Better Living Through Chemistry (2014)
Candyman 3: Day of the Dead (1999)
Citizen Jane: Battle for the City (2017)
Confessions Of A Shopaholic (2009)
Dealin' With Idiots (2013)
Dumb And Dumberer: When Harry Met Lloyd (2003)
Elaine Stritch: Shoot Me (2014)
Enemy at the Gates (2001)
Frankenstein and the Monster from Hell (1974)
From Paris with Love (2010)
The Girl With The Dragon Tattoo (2011)
House of the Dead 2 (2006)
The House That Jack Built (2018)
I Do…Until I Don't (2017)
Intolerable Cruelty (2003)
Open Water 2: Adrift (2006)
Reno 911!: Miami : The Movie (2007)
Revolutionary Road (2008)
Rookie of the Year (1993)
Sleeping With The Enemy (1991)
Something's Gotta Give (2003)
Star Trek IV: The Voyage Home (1986)
Star Trek: First Contact (1996)
Stephen King's Graveyard Shift (1990)
They Came Together (2014)
Underworld Awakening (2012)
Underworld Evolution (2006)
Underworld: Rise Of The Lycans (2009)
William Shakespeare's Romeo + Juliet (1996)
Summer of Soul (2021) (Hulu Original)
Bill & Ted Face the Music (2020)
Flower of Evil: Complete Season 1 (Subbed) (Viki)
I'll Go To You When The Weather Is Fine: Complete Season 1 (Subbed) (Viki)
More Than Friends: Complete Season 1 (Subbed) (Viki)
My Wife and Kids: Complete Series (ABC)
Murdoch Mysteries: Complete Season 13 (Acorn)
This Way Up: Complete Season 2 (Hulu Original)
Grown-ish: Season 4 Premiere (Freeform)
Barb and Star go to Vista Del Mar (2021)
Love Island UK: Season 7 Premiere (iTV)
Cleopatra in Space: Complete Season 1 (Peacock)
Cleopatra en el Espacio: Complete Season 1 (Peacock)
American Horror Stories: Two-Episode Limited Series Premiere (FX on Hulu)
20,000 Days on Earth (2014)
A Field In England (2013)
The Act of Killing (2012)
The Complex: Lockdown (2020)
Raiders! The Story of the Greatest Fan Film Ever Made (2015)
McCartney 3,2,1: Documentary Series Premiere (Hulu Original)
Horimiya: Complete Season 1 (Dubbed) (Funimation)
Olympic Dreams featuring Jonas Brothers: Special (NBC)