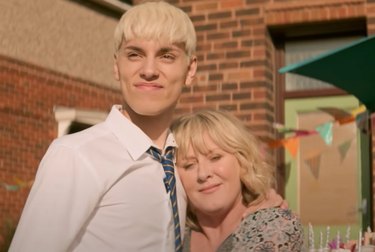 Amazon Prime Video never fails to bring on the goods — whether it's brand new original programming or older movies you probably haven't seen in a while. The streaming platform has something for every occasion.
If you're in the mood for an older movie, you'll have plenty to choose from, including ​Armageddon​, ​As Good As It Gets​, ​I Know What You Did Last Summer​, ​Planet of the Apes​, ​Sleepless In Seattle​, and ​Stuart Little.​
As for new Amazon Originals to look for next month, everybody's talking about ​Everybody's Talking About Jamie​, a film adaptation of the London West End musical hit about a 16-year-old boy who dreams of becoming a drag queen. There's also ​LuLaRich​, an investigative docuseries about the LuLaRoe pyramid scheme that at least one of your Facebook friends tried to lure you into.
Whatever you're in the mood to watch, Amazon Prime Video is sure to have something to fill your bucket. Check out the full list below.
(500) Days Of Summer (2009)
As Good As It Gets (1997)
Big Mommas: Like Father, Like Son (2011)
Cirque Du Freak: The Vampire's Assistant (2009)
Daredevil (Director's Cut) (2003)
Death At A Funeral (2010)
Do The Right Thing (1989)
I'll Always Know What You Did Last Summer (2006)
I Know What You Did Last Summer (1997)
I Still Know What You Did Last Summer (1998)
Planet Of The Apes (2001)
Sleepless In Seattle (1993)
The A-Team (Extended Cut) (2010)
The Host (English Subtitled) (2006)
The Kids Are All Right (2010)
The Last Of The Mohicans (1992)
The Social Network (2010)
The Unborn (Unrated) (2009)
Young Frankenstein (1974)
A Feeling Home (2019) (Hallmark Movies Now)
Ancient Civilizations of North America: Season 1 (The Great Courses)
August Creek (2017) (Hallmark Movies Now)
Craig Ross Jr.'s Monogamy: Season 1 (ALLBLK)
Creepshow: Season 1 (Shudder)
Forensic Factor: Season 1 (A&E Crime Central)
Land Girls: Season 1 (PBS Masterpiece)
Latino Americans: Season 1 (PBS Documentaries)
Mail Call: Season 1 (HISTORY Vault)
Native Peoples of North America: Season 1 (The Great Courses)
Republic of Doyle: Season 1 (Acorn TV)
The Bastards of Pizzofalcone: Season 1 (MHz Choice)
The Blood Pact: Season 1 (PBS Masterpiece)
The Flintstones: Season 1 (Boomerang)
The Killing: Season 1 (Topic)
We'll Meet Again: Season 1 (PBS Living)
Cinderella - Amazon Original Movie (2021)
The Voyeurs - Amazon Original Movie (2021)
LuLaRich - Amazon Original Series: Limited Series
Everybody's Talking About Jamie - Amazon Original Movie (2021)
The Mad Women's Ball - Amazon Original Movie (2021)
American Traitor: The Trial of Axis Sally (2021)
Do, Re & Mi - Amazon Original Series: Season 1
Goliath - Amazon Original Series: Season 4