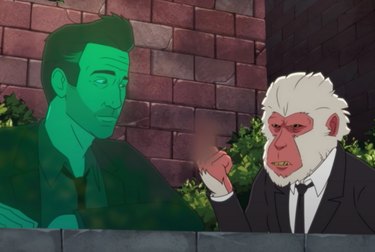 Hulu seems to be skipping fall and jumping right into winter. The streaming platform is bringing on a slew of Christmas movies as the countdown to the holidays begins. So, if holiday movies are your thing, cancel all your November plans — Santa's expecting you.
Also hitting Hulu next month are tons of older movies to rewatch or even catch for the first time, including ​Eye for an Eye​, ​Inception​, ​Boyz N' The Hood​, ​The Fly​, and all three ​Matrix​ movies.
There are several family-friendly Hulu Original series coming your way, so let the kids know they'll be able to watch new seasons of ​Madagascar: A Little Wild,​ ​Animaniacs​, and ​Holly Hobbie​. Another animated show is coming, but this one's for grown-ups — Marvel's ​Hit Monkey​ starring Jason Sudeikis, Olivia Munn, and George Takei.
Here's everything coming to Hulu next month:
The Informant: Fear and Faith in the Heartland (Original Documentary Film) *Hulu Original
Big Mommas: Like Father, Like Son
Borat: Cultural Learnings Of America For Make Benefit Glorious Nation of Kazakhstan
Breakin' 2: Electric Boogaloo
Breaking News In Yuba County
Buffalo Bill and The Indians
Cloudy With A Chance Of Meatballs
How to Beat the High Cost of Living
I Escaped From Devil's Island
Lemony Snicket's A Series of Unfortunate Events
London Mitchell's Christmas
Once Upon a Time in the West
Percy Jackson & the Olympians: The Lightning Thief
Sweeney Todd: The Demon Barber of Fleet Street
Texas Chainsaw Massacre II
Tyler Perry's The Haves and the Have Nots: Season 8
Taste the Nation with Padma Lakshmi: Holiday Edition *Hulu Original
Animaniacs: Season 2 *Hulu Original
Madagascar: A Little Wild: Season 5 *Hulu Original
3212 Un-Redacted (Original Documentary Film) *ABC News
12 Dog Days Till Christmas
A Dogwalker's Christmas Tale
The Boss Baby: Family Business
Christmas In The Heartland
Christmas With the Andersons
Girlfriends of Christmas Past
The March Sisters at Christmas
The Secret of the Nutcracker
The Truth About Christmas
Marvel's Hit Monkey: Season 1 *Hulu Original
Teenage Mutant Ninja Turtles: Out of the Shadows
The Curse of Von Dutch (Original Docuseries) *Hulu Original
The Great: Season 2 *Hulu Original
Holly Hobbie: Season 3 *Hulu Original
Madagascar: A Little Wild Holiday Goose Chase *Hulu Original
Real Housewives of New Jersey: Season 11
Abraham Lincoln: Vampire Hunter