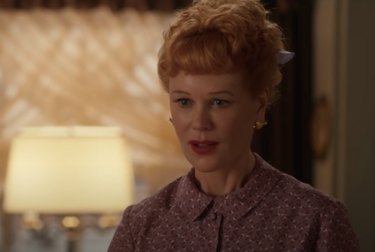 You may already have too many holiday parties on the calendar for December, but you'll need to make some couch time and dive into some excellent content coming to Amazon Prime Video.
​Being the Ricardos​ tells the story of Hollywood power couple Lucille Ball and Desi Arnaz. Starring Nicole Kidman and Javier Barden, the Amazon Original biopic already has lots of Oscar buzz.
You can also expect a slew of older movies and a few more Amazon Originals, including ​With Love​, a new romantic comedy series that follows the Diaz siblings who are on a mission to find love and purpose.
Check out everything coming to Amazon Prime Video next month:
Abraham Lincoln: Vampire Hunter (2012)
Dr. Seuss' The Cat In The Hat (2003)
Edward Scissorhands (1990)
Halloween III: Season Of The Witch (1982)
Mr. Popper's Penguins (2011)
Pineapple Express (Unrated) (2008)
Sleepless In Seattle (1993)
Talladega Nights: The Ballad Of Ricky Bobby (2006)
The Hunt For Red October (1990)
The Royal Tenenbaums (2002)
The Usual Suspects (1995)
Tyler Perry's The Family That Preys (2008)
Under The Tuscan Sun (2003)
What's Love Got To Do With It (1993)
A Discovery of Witches: Season 1 (AMC+)
A House Divided: Season 1 (ALLBLK)
Believe (2016) (UP Faith & Family)
Bonanza: Season 1 (Best Westerns Ever)
Brad Meltzer's Decoded: Season 1 (HISTORY Vault)
Christmas Everlasting (2020) (Hallmark Movies Now)
Hallmark Drama's Christmas Cookie Matchup: Season 1 (Hallmark Movies Now)
Hostages: Season 1 (Topic)
My Crazy Ex: Season 1 (A&E Crime Central)
Roadkill: Season 1 (MotorTrend)
Sanford And Son: Seasons 1-6
Signed, Sealed, Delivered for Christmas (2014) (Hallmark Movies Now)
The Gulf: Season 1 (Acorn TV)
The Jeffersons: Seasons 1-11
The Perfect Wedding Match (2021) (UP Faith & Family)
The Tom & Jerry Show: Season 1 (Boomerang)
When Calls the Heart: Home for Christmas: Season 7 (Hallmark Movies Now)
Harlem – Amazon Original Series: Season 1
FC Bayern – Behind the Legend – Amazon Original Series: Season 1
The Ferragnez – Amazon Original Series: Season 1
Encounter – Amazon Original Movie (2021)
LOL: Last One Laughing Mexico – Amazon Original Series: Season 3
The Expanse - Amazon Original Series: Season 6
Theory Of Everything (2014)
Christmas Is Cancelled (2021)
With Love - Amazon Original Series: Season 1
Who You Think I Am (2021)
Being The Ricardos - Amazon Original Movie (2021)
Yearly Departed – Amazon Original Special (2021)