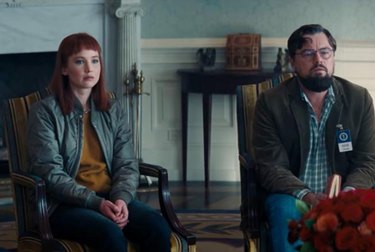 There's no better time to snuggle up and watch new releases than the holiday season. Netflix released its list of fresh content coming in December and there are some good ones.
First up is ​The Power of the Dog​, a neo-western starring Benedict Cumberbatch. The drama, which has Oscar buzz, follows a rancher who has to get used to life with his brother's new wife and her adolescent son.
​Don't Look Up​ is a star-studded sci-fi comedy starring Leonardo DiCaprio and Jennifer Lawrence as low-level astronomers who try to warn mankind of a massive comet they discovered that will destroy Earth. The cast includes Timothée Chalamet, Ariana Grande, Jonah Hill, Cate Blanchett, Meryl Streep, Ron Perlman, Tyler Perry, Kid Cudi, and more.
Check out everything else coming to Netflix this month:
JoJo's Bizarre Adventure (Season 4)
Kayko & Kokosh (Mulitple Seasons)
Rain or Shine / Just Between Lovers (Season 1)
Jurassic World Camp Cretaceous
Money Heist (Season 5 – Volume 2)
Shaun the Sheep: The Flight Before Christmas
The Great British Baking Show: Holidays (Season 4)
Nicole Byer: BBW (Big Beautiful Weirdo)
Carolin Kebekus: The Last Christmas Special
The Family That Sings Together: The Camargos (Season 1)
How to Ruin Christmas (Season 2)
Roaring Twenties: Austin (Season 1 – New Episodes Weekly)
Saturday Morning All Star Hits! (Season 1)
The Hungry and the Hairy (Season 1)
StarBeam: Beaming in the New Year
The Future Diary (Season 1)
Elite Short Stories: Phillipe Caye Felipe
Masha and the Bear (Season 5)
A California Christmas: City Lights
Puff: Wonders of the Reef
The Guardian / Thiên Than Ho Menh
Elite Short Stories: Samuel Omar
Emily in Paris (Season 2)
Elite Short Stories: Patrick
1000 Miles from Christmas
The Silent Sea (Season 1)
Stories of a Generation – with Pope Francis (Season 1)
Crime Scene: The Times Square Killer (Season 1)
Coming Out Colton (Season 1)