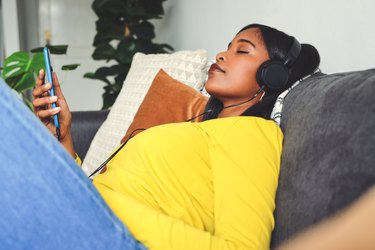 If there was ever a time to start meditating, a seemingly never-ending global pandemic is probably it. Meditation can be a helpful tool for anxiety, and there are certainly plenty of reasons why you might be feeling extra anxious these days.
If you feel overwhelmed by the thought of meditating, your best bet might be a free app. An app is a great way to test the waters to see how meditation works for you. There are several really great apps that charge a subscription fee, and you might benefit from those as well. but if you want to dabble in meditation without committing to paying for it, check out these three apps below.
Best free meditation apps
Oak makes meditating simple, which is truly how it should be. The app is all about helping you build healthy habits. It walks you through meditation, breathing, and sleep courses, with the option to pay for longer courses. You can opt-in to receive inspirational quotes and reminders to meditate and breathe. You have the option to choose a female or male instructor, the duration of the meditation (10 to 30 minutes), and the background music — if any.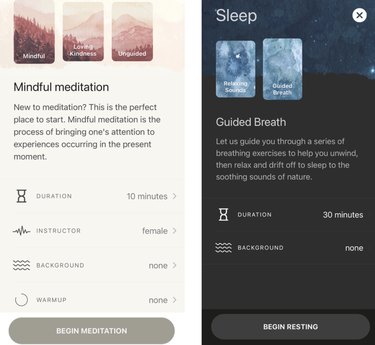 Stop, Breathe, & Think checks in on how you're feeling — both emotionally and physically. Based on your answers, the app suggests a specific guided meditation. You'll be asked to set a reminder for a specific time each day to receive a nudge to open the app and meditate, which is helpful if you tend to have a hard time finding the time. The basic content is free, but if you'd like to upgrade to unlock more meditations, you can do so for $9.99 a month.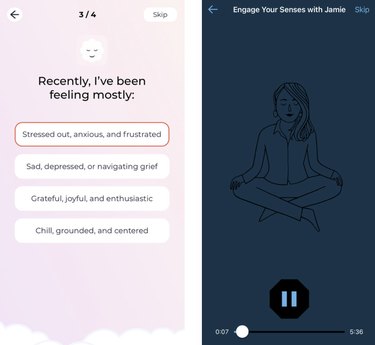 While Calm offers several free meditations (even some guided by LeBron James), you'll benefit most if you go for the paid subscription. Some of the meditations are universally specific, like ones on forgiveness, breaking habits, preparing for a big meeting at work, and even meditations for commuting. There's also a version called Calm Kids that can help your little ones sleep, relax, and learn mindfulness.