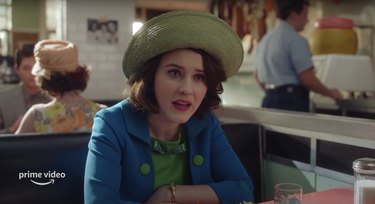 Amazon Prime Video just released its list of new movies and series coming in February, and it doesn't disappoint. As usual, you can expect a slew of older movies hitting the platform — likely some you haven't seen in a long time, like ​Die Hard: With A Vengeance​, ​Little Miss Sunshine​, ​The Fly​, and ​Untamed Heart​.
Also coming next month are some romantic films, just in time for the month of love, including ​Book of Love​ and ​I Want You Back​. Season 4 of ​The Marvelous Mrs. Maisel​ will also debut in February.
Take a look at all the other titles coming to Amazon Prime video below.
(500) Days Of Summer (2009)
A Fistful Of Dollars (1964)
America's Sweethearts (2001)
Die Hard: With A Vengeance (1995)
Don't Be A Menace To South Central While Drinking Your Juice In The Hood (1995)
Gone In Sixty Seconds (2000)
Just Between Friends (1986)
Little Miss Sunshine (2006)
Live Free Or Die Hard (2007)
Love & Other Drugs (2010)
Southern Charm: New Orleans S2 (2019)
The Good, The Bad And The Ugly (1966)
Tyler Perry's Madea's Witness Protection (2015)
Walk Hard: The Dewey Cox Story (2007)
What Happens In Vegas (2008)
Bad Girls Club, Seasons 15-16 (2016)
Khloe & Lamar, Seasons 1-2 (2011)
Key & Peele, Seasons 1-2 (2012)
Nathan for You, Seasons 1-2 (2013)
Kardashian, Seasons 1-3 (2017)
Workaholics, Seasons 1-7 (2011)
*Book of Love – Amazon Original Movie (2022)
Reacher – Amazon Original Series (2022): Season 1
Phat Tuesday – Amazon Original Series (2022): Season 1
*I Want You Back – Amazon Original Movie (2022)
Sofia Niño de Rivera: Lo Volvería a Hacer – Amazon Original Series (2021): New Episodes
Lov3 – Amazon Original Movie (2022)
LOL: Last One Laughing Canada – Amazon Original Series (2022): New Season
The Marvelous Mrs. Maisel – Amazon Original Series (2019): New Season
The Legend of Vox Machina – Amazon Original Series (2022): New Episodes