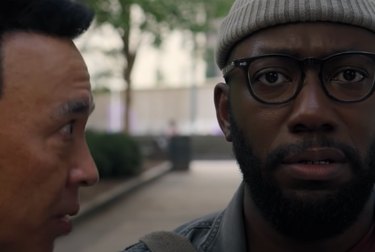 Hulu is bringing on a fresh list of new releases in April, including ​The Kardashians,​ a new series starring everyone's favorite (or least favorite family) K-named family.
Also coming next month is the series premiere of ​Under the Banner of Heaven​, and American true crime drama based on the 2003 John Krakauer book, which stars Andrew Garfield as a detective investigating the murder of a woman and her baby and the involvement of the Church of LDS.
In addition, you'll be able to watch new seasons of ​The Hardy Boys​, ​Woke​, ​Holy Moley​, ​The Croods: Family Tree​, and ​Mayans M.C.​ As usual, there are plenty of older movies hitting the streamer as well, including the entire ​Twilight​ saga.
Here's everything coming next month:
Love Me: Complete Season 1
Casese Quien Pueda (2015)
Cheech And Chong's Next Movie (1980)
Cheech & Chong's Get Out Of My Room (1984)
Death At A Funeral (2010)
The Dukes Of Hazzard (2005)
The Five-year Engagement (2012)
Get Him To The Greek (2010)
Glee The 3d Concert Movie (2011)
Hot Shots! Part Deux (1993)
I Now Pronounce You Chuck & Larry (2007)
Instructions Not Included (2013)
John Carpenter's Vampires (1998)
Look Who's Talking (1989)
Mr. Popper's Penguins (2010)
National Lampoon's Dirty Movie (2011)
Peggy Sue Got Married (1986)
Postcards From The Edge (1990)
Scooby-doo 2: Monsters Unleashed (2004)
Single White Female (1992)
The Tailor Of Panama (2001)
The Twilight Saga: New Moon (2009)
The Twilight Saga: Eclipse (2010)
The Twilight Saga: Breaking Dawn, Part 1 (2011)
The Twilight Saga: Breaking Dawn, Part 2 (2012)
Walk Hard: The Dewey Cox Story (2007)
Mushoku Tensei: Jobless Reincarnation: Complete Season 2
Madagascar: A Little Wild: Complete Season 7
The Croods: Family Tree: Complete Season 2
Monster Family 2: Nobody's Perfect
The Dropout: Series Finale
The Real Housewives of Beverly Hills: Season 11
To Tell The Truth: Season 8 Premiere
The Kardashians: Series Premiere
Drunk Stoned Brilliant Dead: The Story of the National Lampoon
Mayans M.C.: Season 4 Premiere
Holy Moley: Season 4 Premiere
Under the Banner of Heaven: Series Premiere