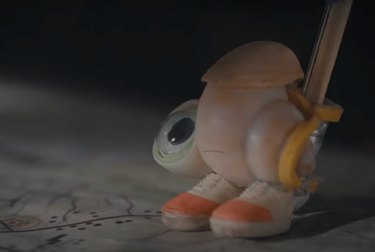 ​Marcel The Shell With Shoes On​ is a viral short film that was released 11 years ago on YouTube. It gained worldwide attention due to the very cute and very tiny star, Marcel, who happens to be a shell, and the subtly hilarious voice work by Jenny Slate. You've probably seen it, and you probably love it.
Marcel now stars in his very first feature film from A24. Jenny Slate voices the tiny shell who lives with his grandmother and is interviewed by a documentarian Dean Fleischer-Camp. The short film goes viral (art imitating life), and Marcel embarks on a journey to find his missing family.
The trailer for the stop motion animation film was just released, and as expected, it's quirky, charming, and full of heart and adventure. There's a cameo from Leslie Stahl (​60 Minutes​), as well as additional voices from Isabella Rossellini, Rosa Salazar, and Thomas Mann.
Check out the trailer of Marcel figuring out how to be small in a big world:
​Marcel The Shell With Shoes On​ will be released Friday June 24, 2022.