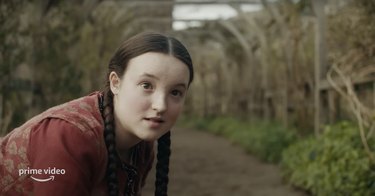 If you feel overwhelmed with all the shows and movies you want to watch, get ready to feel worse. Amazon Prime Video is bringing on loads of new content in October that you're going to want to add to your watch list.
The Lena Dunham written and directed film "Catherine Called Birdy" premieres on Prime Video on Oct. 7. The feminist medieval YA film stars "Game of Thrones" actress Bella Ramsey as the daughter of a Lord who plans to marry her off to a wealthy suitor who she finds to be vile.
From the creators of "Westworld," "Peripheral" is a new sci-fi series to check out. It tells the story of a woman who discovers a secret reality and her own dark future. On the Halloween front, a horror flick coming to Prime Video is "Run Sweetheart Run," which follows a woman who tries to escape a violent blind date.
Check out the full lineup coming to Prime Video in October.
12 Dates of Christmas (2011)
13 Hours: The Secret Soldiers of Benghazi (2016)
A Christmas In Vermont (2016)
A.I. Artificial Intelligence (2001)
Abraham Lincoln: Vampire Hunter (2012)
Ace the Case: Manhattan Mystery (2016)
Christmas Crime Story (2016)
Dickie Roberts: Former Child Star (2003)
Edward Scissorhands (1990)
Law Abiding Citizen (2009)
Mags and Julie Go On A Road Trip (2020)
Mariah Carey's All I Want For Christmas Is You (2017)
My Bloody Valentine (2009)
Nothing Like the Holidays (2008)
Nowitzki: The Perfect Shot (2015)
Santa Claus: The Movie (1985)
Snow White And The Huntsman (2012)
The Curious Case of Benjamin Button (2008)
The Forbidden Kingdom (2008)
The Harimaya Bridge (2010)
The Hundred-Foot Journey (2014)
The Purple Rose of Cairo (1996)
The Silence of the Lambs (1991)
The Thomas Crown Affair (1968)
Tyler Perry's Madea's Family Reunion (2006)
Tyler Perry's Madea's Family Reunion – The Play (2002)
Universal Soldier: Day of Reckoning (2012)
Universal Soldier: The Return (1999)
Water in a Broken Glass (2020)
Without a Paddle: Nature's Calling (2009)
Zack and Miri Make a Porno (2008)
Bring It On, Ghost (2016)
Catherine Called Birdy (2022)
American Horror Story S10 (2021)
Downton Abbey: A New Era (2022)
Run Sweetheart Run (2022)