Just when you thought gift giving season was over, here comes Valentine's Day. If you want to get your significant other something more than just a sweet card and the classic bouquet of flowers and box of chocolates, we put together a list of some thoughtful gifts that also happen to be useful for the whole family.
Check out our 2023 Valentine's Day gift guide below to help you come up with some fresh ideas for your loved one — you know, since Christmas was basically 5 minutes ago.
1. Espro P1 Travel Coffee Press
Espro's Travel Coffee Press is the perfect gift for anyone who loves their French press coffee (or tea) and is always on the go. Made with double micro-mesh filters and a plunger, it only takes 4 minutes to make a batch of coffee. It's a super lightweight coffee press that'll keep your beverage hotter for longer.
2. ReadyFestive Valentine's Day Box
We're in love with ReadyFestive's Valentine's Day box that's packed full of holiday decorations and more. You can build the box you think your significant other will enjoy the most based on a short personal style quiz. Items include candles, wine glasses, games, linens, and other fun decor. Starting with Valentine's Day, you can subscribe for the whole year to receive boxes for whichever major holidays you want, or you can choose non holiday specific boxes based on the season. If you aren't comfortable choosing the items, you can always purchase an e-gift card from the ReadyFestive website.
3. Bustin Boards State-X One
If your significant other has been wanting an electric scooter, there's no better time than Valentine's Day to make that dream come true. Bustin Boards' Skate-X One is an electric scooter built around a concave and bamboo skateboard, which makes it way cooler than any other electric scooter we've seen. It's designed for riders of all ages under 210 pounds — of course, kids and teens need to be tall enough and ready to handle an electric scooter before jumping on. This scooter happens to currently be $340 off.
4. The Comfy Original Oversized Wearable Blanket
This oversized wearable blanket isn't for everyone, but for those who thrive on being cozy and warm, it's an absolute must. Truly, the only thing better than a gigantic sherpa blanket is one that you can wear. This one comes in several color options and has a hood and pockets. Yeah, it's perfect.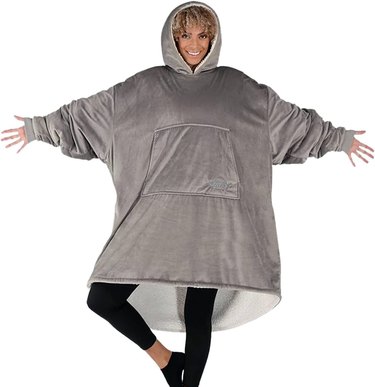 If you've never experienced one of these magical head massagers, you're in for a real treat. This inexpensive, 20-prong scalp massager gives all the tingles you'd want out of a scalp massager. Made of metal, it's durable but also soft enough for your head.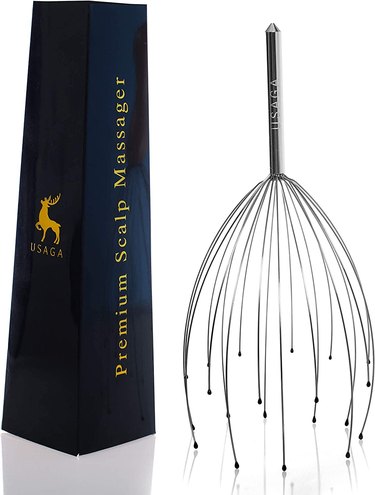 6. Fangor Portable Movie Projector
This full HD projector offers a wireless connection with both iOS and Android devices. So, you can play movies or shows directly from your phone. A wireless Bluetooth speaker can also be connected, and the device comes with a tripod.
7. SHANIKStore Acacia Cheese Board and Knife Set
Level up your charcuterie board with this stunning cheese board made of acacia wood. Designed with plenty of board space for cheese, veggies, fruit, crackers, nuts, and more, this board has multiple sections to hold everything you need. The board comes small bowls, plates, and a knife and a cloth cover to keep it protected when it's being stored. For an added cost, you can have the board personalized with a symbol or monogram of your choosing.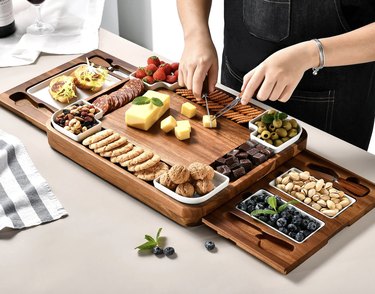 8. Pure Enrichment Himalayan Salt Lamp Diffuser
This Himalayam salt lamp diffuser offers the combined benefits of a salt lamp and aromatherapy. Fill the water tank with your favorite essential oils while the pink salt crystals ionize the air and make it healthier to breathe.
9. Webake Heart-Shaped Ice Cube Tray
A great way to show someone how much you love them is through heart-shaped ice cubes inside their favorite beverage. Or you can just give them the ice cube trays so they can make their own. This silicone tray comes in a set of three.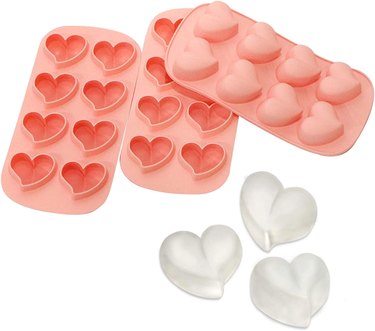 10. Igloo FUNdamentals Cooler Bag
An old school Igloo cooler is a great gift for someone who often packs their lunch for work. This crossbody cooler bad has a retro vibe and is available in four colors.