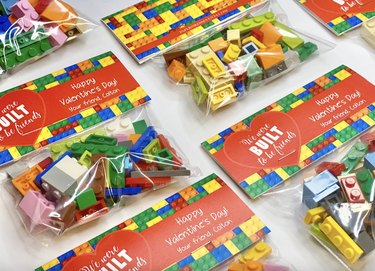 Kids love Valentine's Day. Not just because they get showered with candy and gifts from their parents and friends at school, but because they get to hand each of their classmates and friends adorable valentines that they put together themselves.
Your kids can DIY their own valentines for their classmates from scratch, but if you don't have the time or energy to make that happen, there are plenty of valentine kits you can buy online that come with all the supplies needed to make super sweet gift cards for all. Some include candy, others include tiny toys or stickers, some come with something useful like a pencil or crayon, and some are just adorable cards.
Scroll on for the best classroom valentines of 2023 that your kids (and their friends) are sure to love.
1. Woonoo Crazy Straw Cards, 32-Pack
There's something about crazy straws that kids can't get enough of — cleaning them, however, is a different story. These adorable cards are shaped like various fun beverages and each has a different crazy straw attached. The cleaning part isn't your problem.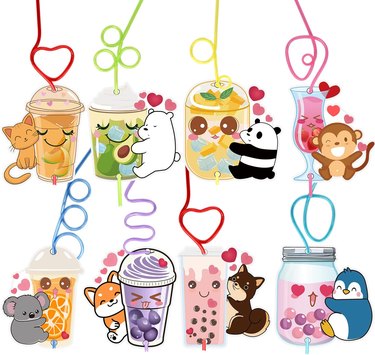 2. INKYRoseDesign Pop It Valentines Cards
Your kids can wish their friends a Poppin' Valentine's Day with these Pop Its. You can pay extra for them to come assembled or your child can DIY them.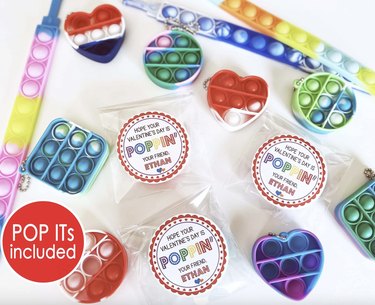 3. PaperDressDesigns Building Block Valentines, 24-Pack
This 2-in-1 Valentine's Day card will keep the kiddos busy for hours — well, maybe just minutes. These building block valentines (AKA LEGOs) come fully packaged and ready to go. They can even come with your child's name already printed on the package.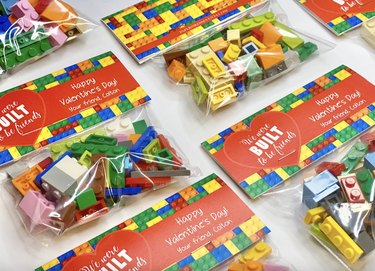 4. Giftarc Valentine's Day Gift Bag Bundle, 28-Pack
If your child is set on handing out cute tchotchkes, this gift bag bundle is a great option. It comes with enough stickers, pencils, pencil sharpeners, rulers, erasers, paper clips, and gift bags cards for 28 kids.
5. Little Passports Suncatcher Valentines, 25-pack
If your child enjoys arts and crafts, they'll love making these suncatcher cards, globally inspired by Denmark, Romania, Peru, and Japan. There are 25 cards in the pack, and each comes with the supplies needed to create beautiful suncatchers.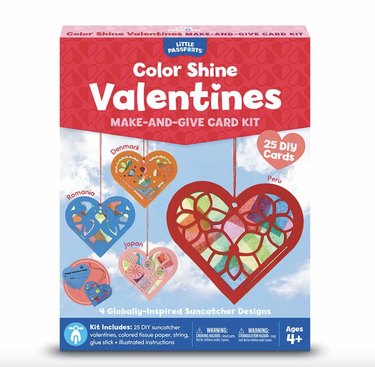 6. LilLoveBugEvents Dinosaur Egg Valentines, 12-Pack
Perfect for little ones who have a serious love of dinosaurs, this 12-pack of cards contains a dino egg that will hatch and grow into a rubber dinosaur after sitting in water for 48 hours. Your child's name can be added to the card so they're ready to go upon arrival.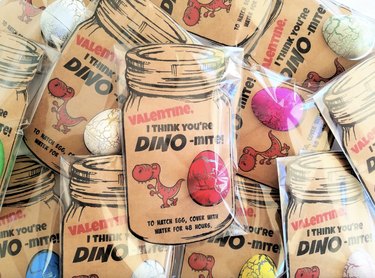 7. ReadySetSensory Personalized Valentine's Play Dough Jars
If your child's class size is relatively small (or if your budget is large), these personalized play dough jars from ReadySetSensory make the perfect Valentine's Day gift. (They even make a great gift for your kiddo and not for the whole class if you want to go that route.) Choose from five different themes, like hearts and unicorns or hearts and dinosaurs. The labels can be personalized for free, making your life a little easier. There's also a bulk order discount, so that's fun.
8. InklingsPaperie Etch-a-Sketch Valentines
Your kids are going to love these Etch-a-Sketch Valentines because they're fun, unique, and magical. Using a pencil or pen, your child can write a secret message on the card and cover it with a screen. Scratching the screen will reveal the hidden message.
9. WillowsBarnCo Squish Valentines
Squish toys are all the rage right now, so these squish valentines are sure to be a hit in the classroom. The cards can come fully assembled to make things easier, but that'll cost a bit more. They can also be personalized with your child's name for free.