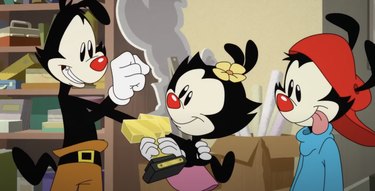 February is the shortest month, but it certainly doesn't feel that way when the weather is still gloomy and you're anxiously awaiting the arrival of spring. Thankfully, streaming platforms like Hulu continue to bring on more to watch to get you through the slump. (If you aren't feeling slumpy, hooray — there's stuff for you too.)
The month starts out with the series premiere of "Taiwan Crime Stories," which takes a deep dive into a dark side of Taiwan. Also coming is the third and final season of "Wu-Tang: An American Saga," Hulu's popular series that documents the rise of the Wu-Tang Clan.
As always you can expect a plethora of other new content as well as older movies you probably haven't seen in a while.
The full lineup is below.
Taiwan Crime Stories: Season 1 — Series Premiere
Impractical Jokers: Complete Seasons 1-3
Naruto Shippuden: Season 7, Episodes 378-389 (DUBBED)
Sherman's Showcase: Season 2B
Aileen Wuornos: American Boogeywoman (2021)
All The King's Men (2006)
How To Train Your Dragon 2 (2014)
If Beale Street Could Talk (2018)
Kissing Jessica Stein (2002)
Lee Daniels' The Butler (2013)
Life or Something Like It (2002)
The Secret Scripture (2016)
Something's Gotta Give (2003)
Thank You for Smoking (2006)
Water for Elephants (2011)
Welcome To The Rileys (2010)
National Geographic Investigates: Colombian Hippo Invasion: Special Premiere
Killing County: Complete Docuseries
Jeepers Creepers: Reborn (2022)
Black Travel Across America: Series Premiere
Santo Maldito: Complete Season 1
Stolen Youth: Inside the Cult at Sarah Lawrence: Complete Docuseries
A Million Little Things: Final Season Premiere
National Geographic Investigates: Battle for Alaska's Oil: Special Premiere
National Geographic Investigates: Great Lakes Wreckage: Special Premiere
Not Dead Yet: Series Premiere
Jesus Henry Christ (2011)
The Perfect Weapon (2016)
Something in the Dirt (2021)
The Storied Life of AJ Fikry (2022)
Next Level Chef: Season 2 Premiere
Wu-Tang: An American Saga: Final Season Premiere
Horario Estelar: Complete Season 1
Love Trip: Paris: Series Premiere
Craig of the Creek: Season 4C
Blade Of The Immortal (2017)
Cocaine Cowboys Reloaded (2014)
The Masked Singer: Season 9 Premiere
National Geographic Investigates: Legal Marijuana in America: Special Premiere
Animaniacs: Complete Third and Final Season
Animal Control: Series Premiere
Accident Man: Hitman's Holiday (2022)
All Roads Lead to Rome (2015)
La Boda De Valentina (2018)
American Idol: Season 21 Premiere
The Company You Keep: Series Premiere
National Geographic Investigates: Peru's Grave Mystery: Special Premiere
Snowfall: Final Season Premiere
A Million Little Pieces (2018)
Prisoners of the Sun (2013)