The iPad doesn't offer a split-screen feature at the time of publication. The only way to use apps in split-screen mode is to download an app that offers limited split-screen abilities from iTunes or the App store. Although rumors abound concerning a true split-screen feature in future iOS updates, none has been announced by Apple.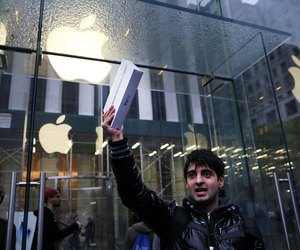 credit: Spencer Platt/Getty Images News/Getty Images
Third-Party Apps
Some third-party apps add split screen-like functionality to the iPad. Apps such as Splitit, Quad Browser and Dual Browser each let you choose which programs show onscreen and how much screen space they take up. Quad Browser and Dual browser enable a user to open multiple browser windows. Splitit gives you access to several different apps in one of two windows. While none is a true split-screen app, all can expand the usefulness of your iPad. Before choosing an app, check out the images and reviews at the App Store.