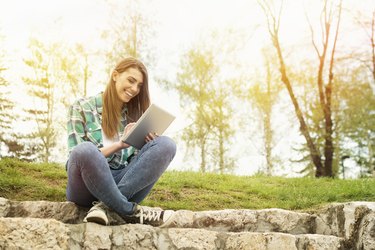 The easiest way to download Android apps on most devices is to use the Play Store, Google's official Android marketplace that continuously adds new titles to the hundreds of thousands already available. On Kindle devices, the Amazon App Store offers a smaller app selection, but alternative markets such as 1Mobile Market and Mobogenie provide more choices.
Sync Apps With Google Play
When you download apps from the Play Store, they're stored in the cloud and available on all your devices, so you never have to worry about losing them. The Play Store comes with most Android smartphones and tablets, except for Amazon devices, which don't natively support Google services. Since Google syncs a list of your downloaded apps with your account, you can download apps from any computer or Android device with the Play Store. To link your Google account to your device, tap "Settings," "Accounts" and "Add Account," then select "Google" and "Existing." To sync an app with this account, open the Play Store, choose an app and then tap "Install." To find apps in the Play Store, browse the categories displayed on the main screen or tap "Search" and enter an app name, category or type. For example, enter "File Explorer" to search for file manager apps.
Use an Alternative Marketplace
Other app stores download apps the same way as the Play Store, but they don't sync with your Google account. To install 1Mobile Market or Mobogenie, enable alternative downloads by tapping "Settings," choosing "Security" and turning on "Unknown Sources." On Kindle devices, choose "Device" instead of "Security." From the Play Store or Amazon App Store, install a file manager app, then visit 1Mobile Market or Mobogenie to download the installation file (links in Resources). Open your file explorer and choose "Downloads" or a similarly named folder, then tap the 1Mobile Market or Mobogenie APK file to install the app. Use these app marketplaces to install apps only to your local device.