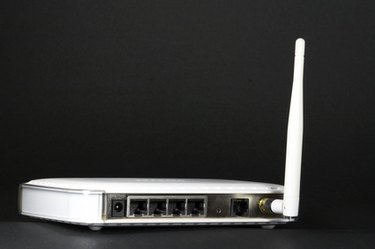 Dish Network offers satellite Internet; you have to add the wireless part with a router. Wireless Internet wraps all the speed of a broadband connection with the freedom of being wire-free into a neat little package. You can take that laptop out onto the deck for a relaxing day in the spring sun or put your desktop computer on the opposite side of the house from the modem. For you to receive wireless Internet from Disk Network, you need to order satellite Internet from the company.
Step 1
Unplug your modem and turn off your computer. Disconnect the Ethernet cord connecting the modem to the computer. Insert one end of the Ethernet cord into the back of the modem and the other into the back of the router. Attach another Ethernet cord from the computer to the router. This is so you can configure the router. You will remove it after the installation process.
Step 2
Plug in the modem. Wait for the connection to establish. The lights on the modem change when it locks on to the signal.
Step 3
Plug in the router. Turn on the computer. Locate the web address for your brand of router. The router's manual likely has the information.
Step 4
Open a browser. Enter the address and type the Username and password to log in. The manual has this information as well.
Step 5
Enter a Router Name. Set up a security password. This will be your login information to access the connection. Click "Save Settings" every time you change the page. Change the Security Mode to WEP or WPA. Your router will have different settings and options available. As long as you change or enter the router name, password and security mode, your router should function properly.
Step 6
Disconnect the Ethernet cord, which runs from the computer to the router. You may have as many wireless capable computers on the system as you desire and up to four wired computers, which utilizes an Ethernet cord with one end in the router and the other in the computer.
Tip
If your computer doesn't have wireless capabilities, purchase and install a wireless adapter. You can check for a wireless network adapter by clicking on "Start" and "Computer." Choose "System Properties" and then "Device Manager." Click the plus sign next to Network Adapters. Look for "wireless" or "801" in the adapter names.