Synchronizing the Apple iPhone with a Mac computer simply requires a USB cable and a few clicks. Data from the iPhone, including file downloads, contacts, calendars, notes, songs, videos, photos and applications can be transferred to a Mac in a matter of minutes.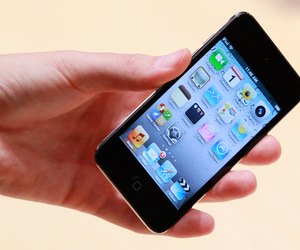 credit: Justin Sullivan/Getty Images News/Getty Images
USB Connection
Connect the iPhone and the Mac (10.5.7 or later) with the USB cable that comes with the iPhone package and is used for charging. The wide plug connects to the iPhone while the regular USB plug connects with the Mac. If one end is plugged into the charger's power adapter, unplug the adapter and disconnect the small end and plug it into the Mac. You will hear a sound effect from the iPhone when the connection is made.
Media Program
Safari or your selected browser will bring up your default file opening program, which may be iTunes or perhaps a photo editing program. If the program that pops up is appropriate (such as iTunes for songs) then proceed. If not, close out of the program and find an appropriate program, such as iPhoto, on your dock. In iTunes click "File" and find the tab that allows you to sync the iPhone with the administrator or transfer purchases from the iPhone. Only files authorized to play on other computers will transfer.
Import Files
Importing files can also be done by using the program's import button, which can be found by clicking "File." Depending on the product version, iTunes will say "Add to library" and iPhoto will say "Import to library." Click the "Import" or "Add" tab then allow a few minutes for the files to transfer. Once the transfer is complete, which will be indicated by a sound effect, you can go back and organize files into appropriate folders for easier navigation. For a more elaborate method of backing up files from the iPhone to a Mac, visit iphonetomactransfer.com.