OoVoo is a free online video chat service. It can connect you to friends, family and coworkers anywhere in the world. All you need is a computer with a standard broadband Internet connection and audio and video capabilities. While video chatting is free, more advanced options like conference calling, desktop sharing and advertisement-free viewing are available with a paid subscription. You can request friends who are already on ooVoo, friends who don't yet have ooVoo or new friends who share similar interests.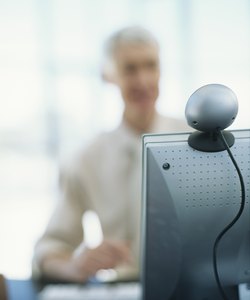 If You Have ooVoo
Step
Log in to your account. A pop-up will notify you about your invitation.
Step
Click "View Card" to learn more about the person if you don't already know her.
Step
Click "Add" or "Ignore."
If You Don't Have ooVoo
Step
Open the email from ooVoo.
Step
Click "Start a Web video call with me." This will allow you to chat without downloading ooVoo. You can also click "Download ooVoo." This will load ooVoo onto your computer and automatically walk you through steps to create a user name and password.
Step
Log in to your new ooVoo account using the user name and password created in the automated account setup. You will be notified about your friend invitation in a pop-up when you log in.
Step
Click "Add" or "Ignore."