How to Add a Link in Photoshop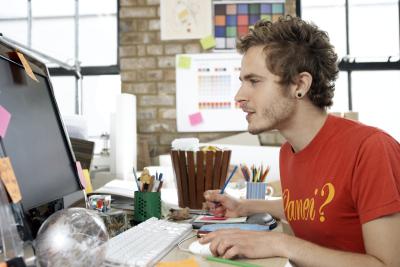 Adobe Photoshop helps you create optimized images for the web. You can divide an image into slices (separate areas within your image) to make the size of your file smaller, then save the areas as separate image files. When you add a link to a Photoshop slice, you create a hot spot for the linked area. When you add a link in Photoshop from an image slice, you can specify the target window where the link will open as well.
Step 1
Open Adobe Photoshop and the image file you want to link.
Step 2
Divide your image into slices by using the Slice tool from the toolbox. Hold down your mouse and drag over the area of the image you want to slice. Repeat this process to create additional slices.
Step 3
Use the Slice Select tool from the toolbox to select the slice you want to link, then double-click on it. The Slice Options dialog box will open.
Step 4
Enter a slice name for the image slice and type in the full website address (for example, http://somewebsite.com) you want to link inside the URL text box.
Step 5
Enter a target frame in the "Target" text box (for example, " _blank," "_self," "_parent," "_top") to designate which window the link will open. Then press "OK" when you are finished.
Step 6
Save your Photoshop file for the web by clicking on "File" and "Save for Web." Click on "4-Up" and choose the optimized file size of your choice. Then click on "Save."
Step 7
Name your file with the HTML file extension and choose "HTML and Images (*.html)" for "Save as type." Choose "All Slices" for "Slices" and click on "Save."
Step 8
Save a Photoshop version of the file as well (in case you need to update it later) by clicking on "File" and "Save As." Change "Format" to "Photoshop (*.PSD, *PDD)" in the "Save As" dialog box. Then name your file and press "Save."
Tips & Warnings
These instructions apply to creating a link in Photoshop 7.
References & Resources