There are two providers of satellite TV service: DirecTV and Dish Network. They both work by bouncing signals off satellites. They both require the installation of a properly positioned mini-satellite dish. A dish connects to a receiver within the home that tunes in the stations received from the satellite. Usually, installers position the dishes as part of installation. However, you can also do it yourself relatively easy, although two people are often needed--one at the outside position of the dish and another watching the receiver's display on the TV screen.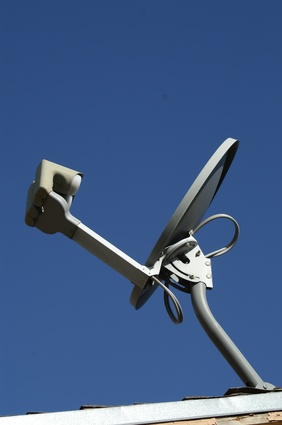 Step
Connect the cable. This connects from the inside digital receiver from the LNB unit, that sits at the end of the arm attached to the dish.
Step
Connect the receiver to the television. Use the best quality cable that the receiver allows. If there's an HDMI output, use it for the very best video and sound connection.
Step
Start the dish setup procedure. There is a button on the remote to get to the setup screen. That screen shows the signal strength accompanied by an audio tone that also indicates signal strength.
Step
Adjust the dish position for strongest signal strength. Adjustments to azimuth and angle are made by the person outside at the dish. Use a cell phone to communicate.
Step
Tighten the outside dish position once the strongest signal strengths via the graphs on the television screen are obtained. Anything above 75 in signal strength is generally good enough for reception.