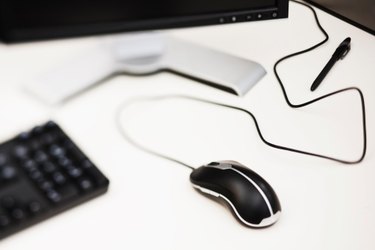 An email address allows you to receive and send communications electronically. It has two parts separated by the "@" sign. The first part of the address applies to you locally, and will typically be your name, business name or an alias. The second part, proceeding the "@" symbol, is the domain name where the mail is sent from or to. If you have a domain name, you can set up an email address "@yourdomain.com" via your domain registrar. Alternatively, you can apply for a free email address from providers such as Gmail, Yahoo! or Windows Live.
Step 1
Select an email provider. When you sign up for a free service, you are additionally able to use the address for services such as Gtalk, iGoogle, Yahoo! Messenger or Windows Messenger by entering your new email address. Therefore, if you would like to use gTalk to chat with friends, choose Gmail as your new email provider.
Step 2
Go to the provider's sign-up page. You can find this by typing "gmail," "yahoo mail" or "windows live mail" into your favorite search engine.
Step 3
Click on the "Sign up" link. depending on the provider you choose, this may say something like "Create an account."
Step 4
Choose a username. This is the part of the address that precedes the "@" sign and potentially tells the receiver something about the sender. You will not be able to change this later, so make sure the username you choose gives the desired impression.
Step 5
Fill out the additional fields. Required fields will usually include a password, name, zip code and password reset question.
Step 6
Click submit. Provided you entered all information correctly, your email address will be created and a new page will load with details of how to access your account to send and receive mail.
Tip
To keep your new email account details private, and prevent it from being hacked, take care when choosing a password. For security, create a password containing a mix of at least 8 symbols, numbers and mixed-case letters that would be impossible for anyone to guess.