If you've ever wanted to connect two laptop computers together for file sharing or other reasons, it's quite easy to do, so long as they both have wireless cards built in or attached to them. The process involves creating a local wireless network on one laptop and then connecting the second laptop to this ad-hoc wireless network. The skills required to do this are minimal; all you need to know are the basics of navigating around your computer.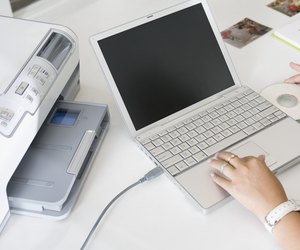 credit: Thinkstock Images/Comstock/Getty Images
Step
Open the Network and Sharing Center on one of the laptops by clicking on "Start," then "Control Panel," then "Network and Sharing Center."
Step
Click the option to "Set up a connection or network" at the left-hand side of the window. Choose the option to set up an ad hoc wireless network, click "Next" and fill in the information requested. You will need to supply a network name and choose a security type and password. If you are in a public location, you should enable security so that other people cannot connect to your computer. Click "Next," then choose the option to "Turn on Internet connection sharing." Click "Close."
Step
On the second computer, open the Network and Sharing Center. Select the option "Connect to a network" and choose the network that you set up on the first laptop. If you set up a security password, enter it and wait for Windows to connect.
Step
Open Windows Explorer and click on "Network," then browse to the files that are on each computer. You can do this from either of the two computers. If you wish to share files between more than two laptops, you can connect more laptops by connecting them to the wireless network that is being shared from the first computer.