Burning a video to a DVD is one of the primary reasons for owning a laptop with a DVD burner. The task can be intimidating for first-time users, but various DVD burning software can make the task a lot less daunting. Most laptops that have a built-in DVD burner will also come with software to assist in the task of creating DVDs. However, since the majority of laptops run on the Windows operating system, this article will focus on using Windows DVD Maker to create a DVD.
Locate Windows DVD Maker software from your start menu, under 'All Programs.'
Click on the options link and select the options that you want for your DVD. Here is where you can decide what menu options you want for the DVD as well as the aspect ratio and format. The defaults are fine for most productions.
Click on 'Add Items' from the menu bar to select pictures and video for your DVD. You will notice a running time total in the left hand bottom of this window. The total alloted time for a DVD is 150 minutes using this method.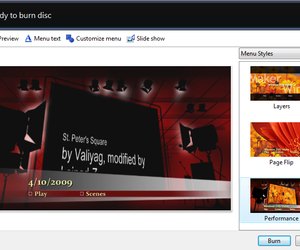 Click to move to the next screen, where you will see that you are now ready to burn the files to a DVD. It is here that you can preview your DVD, make your menu selections add music to your slide show and even customize the menu if that is what you decide.
Step
Insert a blank DVD R/RW disk into the DVD R/RW drive. Click on the 'Burn' button from the final window left once you completed step four. If you do not already have a disk in the laptop's DVD drive, it will instruct you to put one in. Once the program completes the burn of video to the DVD, it will notify you that it is complete and eject the DVD.