How to Burn DVDs on iMac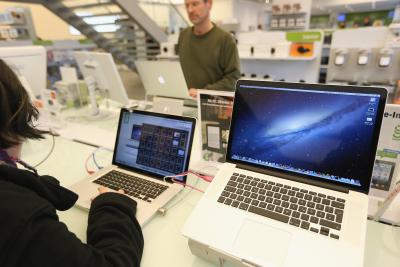 There are many reasons to burn DVDs on your iMac: You can burn DVDs of important data as a backup. Or you can burn a DVD of your photos and home videos to share with friends and relatives. No matter what you want to burn, the process is simple.
Step 1
Insert the blank DVD into your iMac's DVD-R drive, which is located on the right side.Your iMac will display a dialog box.
Step 2
Enter a name for your DVD in the box that appears and specify the format you want to create. Click "OK."An icon for your DVD will appear on your iMac's desktop.
Step 3
Drag the files and folders you want to burn onto the DVD to the new icon.
Step 4
Click on the DVD icon to highlight it. Select "File," then "Burn disc."
Tips & Warnings
If the "Burn disc" option is unavailable or dimmed, you may not have permission to burn DVDs. Check with the administrator of your computer. It also is possible that the DVD you inserted is not blank.
To verify that your iMac is capable of burning DVDs, double-click on the System Profiler icon in the Utilities folder. On the Hardware list, select "Disc burning" and look at the entry for DVD-Write. If the entry is "-R" or "-RW," your iMac is capable of burning DVDs.
Before burning your DVD, you can double-click the icon for a window that displays the files and folders you have chosen to burn as well as the amount of space left.
References & Resources