How to Check Domain Name Availability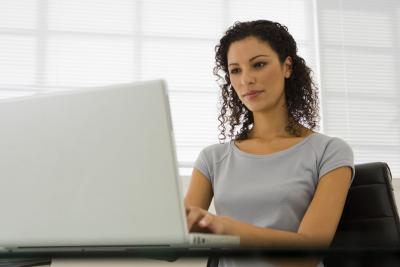 A website gives you an online presence and lets you share your writing, photos and other creations with family and friends. Whether you've finished designing your website or you are just getting started, you need to pick a domain name. The name you choose will identify your site and allow others to find you on the Web. You can search for a domain name and purchase one you like from a variety of domain registrars. During your search, you'll be notified of the requested name's availability, and most registrars' websites will suggest alternatives if the name you want is unavailable.
Checking on GoDaddy.com
Step 1
Open your Web browser and navigate to the GoDaddy.com website.
Step 2
Type a name in the "Search for a new domain" field. Click the drop-down menu and select a top-level domain (TLD) extension such as .com or .net.
Step 3
Click "Go." If someone already owns the domain name, a list of alternatives and prices will be displayed. Click "Add" to place an available domain name in your cart.
Searching on Namecheap
Step 1
Browse to the Namecheap website (link in Resources). Click "Domains" at the top of the page.
Step 2
Type the domain that you want in the search box. Click the drop-down menu and choose a top-level domain extension.
Step 3
Click "Search" to determine availability. If the requested domain is available, click "Add to Cart" to claim it.
Searching on Network Solutions
Step 1
Navigate to the Network Solutions website (link in Resources).
Step 2
Enter up to 10 domain names in the search box, and then select the extensions you want to purchase.
Step 3
Click "Search Now." If a domain name is available, click on it, and then click "Add Selected to Cart."
Tips & Warnings
If the domain name you want is owned by someone else, some registrars allow you to make an offer to buy it from the owner.
Once you have purchased a domain name, you can't change it. If you misspell the domain name, you cannot correct the error.