How to Check If a Website Is Secure?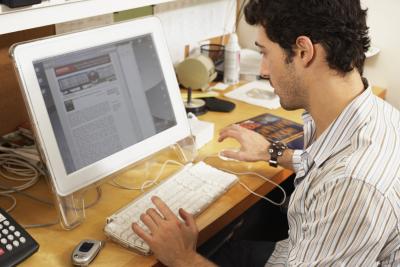 Legions of websites encourage you to shop on their site or to pay your bills online. Although it is enjoyable and convenient to conduct transactions online, it is important to know if a site is secure before you type in your name, passwords and your credit information. You want to be sure your transaction is protected by the Secure Socket Layers (SSL) protocol. SSL keeps your information encrypted and authenticated so third parties (people who would like to steal your data) cannot see what you send to the secure site. There are several ways to tell if a website is using SSL.
Step 1
Look for the letter "S" at the end of the standard http in the address line in either Internet Explorer or Firefox. A secure web address looks like https, where the "S" represents Secure. This indicates the site is using SSL on the server you are going to use. Some commercial companies use a nonsecure website for you to browse their products. When you go to pay for something, they then switch over to a secure website.
Step 2
Check for a yellow padlock or key icon on the web page. This also indicates the website is using SSL. In Internet Explorer, the padlock or key appears to the right of the address box while in Firefox the padlock or key appears in the address line. Firefox also indicates secure transactions by adding a yellow highlight to secure addresses. Sometimes the padlock or key will also appear in the bottom of the window.
Step 3
Click on the yellow padlock or key icon for an additional check on the level of security. These icons represent a certificate of authenticity for a website. Internet certification authority companies like Verisign and Equifax Secure issue certificates to websites that meet industry standards. When you click on the icon, it should display more information about the website's encryption and authentication information. You can click on "View Certificates" to see more information about the website and whether it matches with the address being used.
Tips & Warnings
Spoofed and fake website creators are becoming very innovative in making their sites look like commercial sites. Even fake sites can be encrypted, so having a "secure" connection is not any guarantee that the website is legitimate. In addition to checking the address and looking for icons, try clicking in links and other images on the websites to see where you go on the website. Also look carefully at the address line and make sure it is spelled correctly.
According to OnGuardOnline, it is important to not only check the security of the site you are conducting business with, but also to check for a phone number and physical address for the company so you can call or visit the company.