How to Clear a Photoshop Registry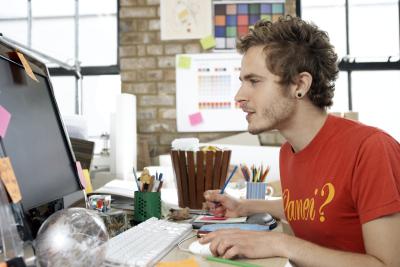 When programs are uninstalled, they often leave behind bits of information in the computer's registry. The registry contains bits of information your operating system uses to remember settings, preferences, style sheets, hardware options and system information. If you have installed and uninstalled numerous software applications, your registry can grow large with these unneeded registry files. Additionally, installing new versions of software can be made difficult with old registry entries conflicting with newer ones. Uninstalling Photoshop will leave behind a number of these registry files, which can be removed with manual registry edits.
Step 1
Click on the Windows Start menu and choose the "Run" option or "Start Search" (depending on your version of Windows).
Step 2
Enter "regedit" in the box and click "OK." This will launch the Windows Registry Editor.
Step 3
Press the plus sign next to "HKEY_CLASSES_ROOT" to expand the list of registry entries in this section.
Step 4
Click the plus sign next to "Installer" to further expand the list.
Step 5
Click the plus sign next to "Features" to further expand the list.
Step 6
Click on the registry key named "4C7BB6329144DF244090E152A7523ED4." Access the "Edit" menu and choose "Delete." Click "Yes" in the confirmation dialog box.
Step 7
Repeat these steps for each of the registry keys associated with your version of Photoshop. You may need to expand different folders in the registry to access each of the keys. Consult the Adobe manual Photoshop removal guide specific to your version of Photoshop and operating system to determine the correct keys to delete.
Tips & Warnings
Deleting incorrect keys in the registry may cause other applications or your entire system to cease functioning normally. Do not edit entries in the registry unless you are comfortable with these modifications.