The Pandora mobile music app comes in handy when you're on the go and want to hear some tunes; however, because Apple's iOS devices such as iPhone allow multitasking to let you switch between apps, you may run into the problem where you hear your music continuing to blast while you're trying to do something else. Use one of two methods to close Pandora completely.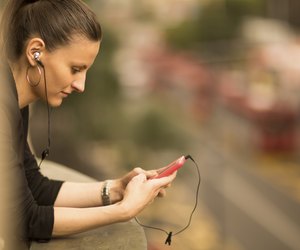 credit: milanrajce/iStock/Getty Images
Two Methods
The fastest way to close any open app on your iPhone is to double-click the "Home" button to display all the open apps on the screen. Scroll to the left or right to locate the Pandora app and swipe upward on the Pandora screen to close the app. The other way to close Pandora is to tap on the "Settings" menu at the bottom of the Pandora screen, tap "Sign Out" and then confirm the action when prompted. This method takes only a few seconds, but you'll need to sign in again to use Pandora.