Connecting your computer to your television makes it easy to share downloaded videos and games with your family and friends. It can also be useful if you're working on presentations. The process varies somewhat depending on the computer you're using.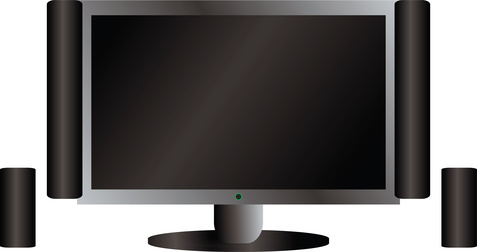 Video
Step
Find your computer's S-video port and/or VGA out port. An S-video port is a small, black port with four or more holes in it. A VGA port is a larger (but still relatively small) port shaped like a trapezoid that has 15 holes, five in each row of three. If your computer does not have an S-video port, you need to purchase a VGA-to-video converter. If your computer has neither port, you're out of luck.
Step
Examine your TV to see if it has an S-video port. These are usually on the back of the set but can be on the front.
Step
Connect your S-video cord to the back of your computer.
Step
Connect the other end of the cord to the TV in the "S-video In" port.
Step
Put your TV into the appropriate mode for the S-video port you're using. You probably can do this by pushing the "TV/Video" button on your remote or TV. Some TVs have these modes as channels below Channel 1.
Step
Right-click anywhere in open space on your laptop. Click "Properties," then the "Settings" tab.
Step
Click on the box labeled "1," then click the "Advanced" tab.
Step
Look for tabs that say "General," "Adapter," "Monitor," "Troubleshoot" and "Color Management." The labels will vary among computers. Find the one that will set up your video card (sometimes it will open another window).
Step
Look for something similar to "Set Up Multiple Displays." Find this, then choose your laptop display as the primary display and the TV as the secondary display. You want "clone" mode, which means the TV will display exactly what's on your laptop. If you can't figure out where this setting is, refer to your computer's manual.
Audio
Step
Hook up the 3.5MM port to the headphone port on your computer.
Step
Find the audio jacks that correspond to the S-video port you're using for the video. Plug the wire in according to the appropriate colors.
Step
Turn the sound all the way up on your computer; if it's too loud, turn down the volume on your TV.