Verizon FiOS involves setting up a fiber-optic cable to connect to your computer as well as a TV. In case you have multiple computers to connect to, Verizon also offers a combination modem/router as well for you to use. However, if you don't like the router you were given by Verizon, you can substitute another router in its place, using the original modem/router as a bridge to the FiOS service.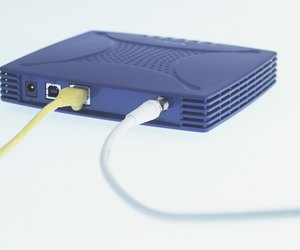 credit: Hemera Technologies/AbleStock.com/Getty Images
Step
Open the web browser on your computer and type "192.168.1.1" into the address bar, then press Enter.
Step
Enter your username and password when prompted. Typically, you can enter the username and password "admin" and "password," respectively.
Step
Click on "My Network" at the top of the screen, then click on "Advanced" to see all connections for your modem. Click on "Network Connections" setting on the left menu.
Step
Click on the "Broadband Connection (Coax)" from the connection list. Then click on the "Settings" button to bring up the main settings for your FiOS router.
Step
Enable the "Privacy" setting for the connection if it is not already enabled.
Step
Click on the "Release" button and then click "No IP Address."
Step
Click on "Apply" to apply these settings.
Step
Click on "Network (Home/Office)" in the "Connections" list, then click on the "Settings" button. Check the box next to the "Broadband Connection (Coax)" under the "Bridge" interface, and then check the box under the "STP" column.
Step
Disconnect all computers from the Verizon modem. Connect the computer to your new router via the Ethernet cables, then connect the router to the router/modem.