Wi-Fi, an abbreviation for wireless fidelity, refers to a wireless network that your computer connects to in order to access the Internet. Wi-Fi signals are created by wireless routers and can either be locked with a password or open to the public. Most personal Wi-Fi networks are encrypted with a password, while many public places like coffee shops offer open Wi-Fi networks. You have enable the wireless card on your computer to connect your computer to a wireless network.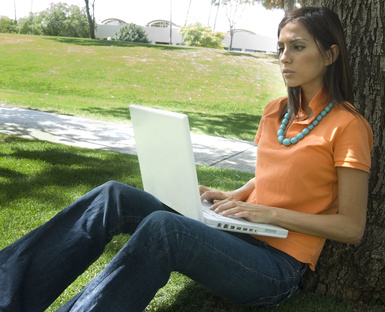 Windows 7
Step
Turn on your computer and locate the Wi-Fi icon. This is located in the system tray in the bottom-right corner of the screen. The icon looks like a series of rectangles that increase in size from left to right.
Step
Right-click the Wi-Fi icon and select "Connect to a network." You will see a list of available wireless networks.
Step
Choose a Wi-Fi network you want to connect to and select "Connect."
Step
Enter the password into the password text box if a password is required. If a password is not required, you will automatically connect to the Wi-Fi network.
Step
Click "OK."
Mac OSX
Step
Turn your computer on and locate the Airport icon in the upper-right corner of your Mac. The icon looks like a series of semi-circles.
Step
Click the Airport icon and select a Wi-Fi network to connect to from the list of options.
Step
Enter a password in the "Password" text box if a password is required.
Step
Click "OK."