How to Control the Backlight on a Laptop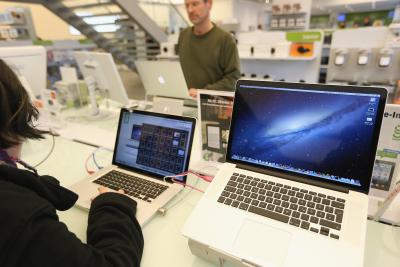 Most laptops now have the Windows Vista operating system, even with the newer Windows 7 out. Windows Vista on laptops lets you choose your lighting settings on the laptop to preserve battery power. If battery power isn't a concern, maybe your eyes are straining while staring at the laptop, and darkening the screen would ease that strain. The light settings on a laptop are customizable, so you can make it suit your personal needs.
Windows Vista
Step 1
Enter the "Start" menu at the bottom of the screen, and click on "Control Panel."
Step 2
Click on "Mobile PC," then enter the "Power Options."
Step 3
On the left side, select "Adjust the display brightness."
Step 4
Use the slide bars to adjust the backlight brightness. There are two different slidebars: one for when the laptop is only using the battery, and another for when the laptop is plugged in.
Mac OS
Step 1
Select "System Preferences," then choose "Displays."
Step 2
Use the slidebar at the bottom to adjust the brightness of the screen.
Step 3
You can also select to have the laptop automatically adjust the screen depending on the light changes around you.
Tips & Warnings
Another way to adjust the screen on your laptop is by holding down the "Function" key and using the arrow keys. This will vary from laptop to laptop, however.