M4A is an audio file format that is associated with audio played by the Apple program known as iTunes. An M4A file is the same as an MP4 file, except it contains only audio and no video and has a different file extension. Some audio files iTunes uses are in the M4A format. Although there is a version of iTunes for Windows, you may want to play these files in other media players that don't support the M4A format. WMV is a more universally accepted file format on the Windows operating system, so you may want to convert, or change, the file format to WMV.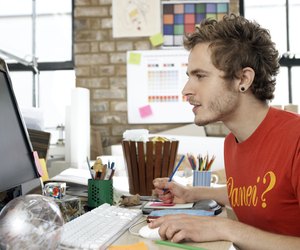 credit: Ciaran Griffin/Lifesize/Getty Images
Changing the File Extension
Step
Change the file extension on your M4A file to MP4. M4A files are actually MPEG 4 audio files that Apple has decided to brand with a different file extension for their own downloading purposes. You need to change your M4A file to an MP4 file before converting it to WMV. To to start that process, change the file extension to MP4 by first clicking on "My Documents." After that, click on "Tools > Folder Options."
Step
Select the "View" tab and uncheck the box next to the words "Hide extensions for known file types."
Step
Click "Apply" and exit out of all open windows.
Step
Right click your M4A file and click on "Rename." Change the last three letters after the "." to "MP4" and hit "Enter." A message will ask you if you are sure you want to change the file extension. Simply click "OK" and Windows will read the video file as an MP4 instead of a M4A.
Converting the Video
Step
Find a file conversion service you'd like to use to convert your M4A file to WMV.
Step
Try Any Video Converter Free Edition. This software has a paid version, but the free version isn't a trial. You can use it as long as you want without any limits. Now that you've changed your M4A file to an MP4 file, Any Video Converter can convert your MP4 file to WMV with good quality, but this program will be a little slower since all the conversion happens within the program itself.
Step
Download and try Winff. This program is open source, meaning that it is 100% free to download and use with no limits. This software offers a few different kinds of WMV formats to choose from such as WMV for online use, WMV for playback on the Xbox 360 gaming console, and a generic WMV format. It will convert your file faster than Any Video Converter because it opens a separate MS-DOS window in which to convert the videos. This program's drawback is that it sacrifices quality in your converted videos for speed in the conversion process itself.
Step
Give the Media Convert website a whirl. Media Convert is a free website that allows you to upload a video file, select a conversion format and then download a converted file. You don't have to download any software to use this service, but if your movie file is large, it may take a while to upload to the website and then redownload to your computer once it has been converted. Like Any Video Converter, it only converts to one type of the WMV format.