How to Copy a Music CD to Mac Book Pro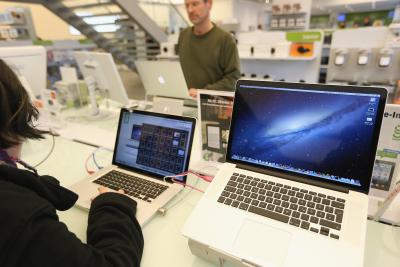 The MacBook Pro is part of the line of laptop computers available from Apple. One advantage of purchasing an Apple computer is that iTunes comes preinstalled on all Macs. ITunes is a free software program from Apple that allows you to manage and play all the digital music stored on your Mac. In addition, iTunes makes it easy to add music to your library by purchasing additional songs online or importing music from your own CD collection.
Step 1
Click on the "iTunes" icon in your dock. The dock is the list of application and folder icons located along the bottom of the screen of the MacBook Pro.
Step 2
Insert the music CD you wish to copy into the CD/DVD drive of your MacBook Pro.
Step 3
Locate the music CD on the left side of the iTunes application window. The name of the CD will be listed under Devices. Click on the music CD and the songs will be listed on the right side of the iTunes window.
Step 4
Choose the songs you wish to import to your iTunes library by clicking the check box next to each song title.
Step 5
Click "Import CD" in the bottom right corner of the iTunes window to begin copying the music CD to your iTunes library. Once the importing process is complete, eject the CD by clicking the "Eject" icon located next to the CD name in the iTunes window.
Tips & Warnings
Click the "Import Settings" button in the bottom right corner of the iTunes window to change the file type and audio quality for the music being imported.
To locate a music file on your computer, right click on the track name in your iTunes library and select "Show in Finder".
References & Resources