You may have a number of MP4 (MPEG-4) files on your computer that you want transferred to DVD, so you can share movies with your friends or watch them at home on your DVD player. Unfortunately, converting your MP4 files to DVD format requires buying or downloading a program from the Internet, since your computer likely does not come with the appropriate software. Many options for creating a DVD exist, though, including the free program AVS Video Converter, as well as trials of programs like ImToo DVD Creator, or Xilisoft Burn Pro. Allow several minutes for your DVD to burn.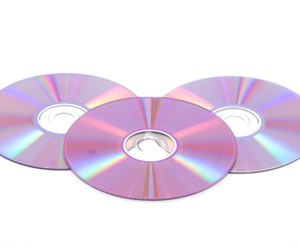 Burning DVDs with AVS
Step
Download and install AVS Video Converter from its parent website. Agree to the terms of use and run the program.
Step
Click the input file name "Browse..." button to select the MP4 you want converted, using the pop-up Windows Explorer browser.
Step
Click the "To DVD" button at the top of the AVS menu. This will bring up a pre-selected option in the "Profile" field that you may change by clicking the field's drop-down menu arrow.
Step
Click the "Browse..." button next to the "Output File Name" field to set a location on your computer where AVS will save the converted DVD files. It must convert your MP4 to proper DVD format before it burns it to disc.
Step
Click the "Convert Now!" button to begin the conversion. When prompted, choose the "Burn to Disc..." option in the pop-up menu.
Step
Insert a blank DVD. Make sure AVS is set to burn your blank DVD, and click "Start Burning!" to begin the burn.
ImToo DVD Creator
Step
Navigate to ImToo DVD Creator's download page. Download and install the software. Agree to the terms of use and launch the program.
Step
Load your MP4 into ImToo by clicking "File" and selecting "Add Video File(s)." Locate your video with Windows Explorer and choose to open it in ImToo.
Step
Insert a blank DVD and select it from ImToo's "Destination" drop down menu.
Step
Design your DVD's menu, if desired, by clicking the "Templates" icon in the menu pane. Choose a template.
Step
Click the "Burn" button to begin creating your DVD.
Xilisoft Burn Pro
Step
Visit the Xilisoft Burn Pro home page. Download a free trial and install the software. Agree to the terms of use and launch the program.
Step
Insert a blank DVD into your computer. Wait for your computer to recognize the disc.
Step
Click the "Add Files" button in the upper-left of the main menu to find the MP4 you want converted. Open your file in Xilisoft.
Step
Click the "Target" field and choose your blank DVD. Name your disc, if needed, in the "Disc Name" field.
Step
Select a "Write Speed" for your disc and the number of copies you want and click the large "Start Burn" button in the lower-right-hand side of the screen.