Yahoo! search results are generated when Yahoo's search engine is used. These results are then recorded, transferred to the browser's history and classified under a unique URL in the history folder. The browser history's files can be itemized, so you can locate and delete the specific Yahoo search results, without clearing the all of the history in the browser. Deleting these history files only takes seconds.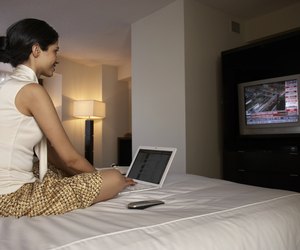 credit: Darrin Klimek/Digital Vision/Getty Images
Internet Explorer
Step
Go to "View" in the Internet Explorer browser menu, across the top of the Internet browser.
Step
Scroll down the menu to "Explorer Bars," and slide your cursor to the collapsible menu that will appear on the right.
Step
Click "History" in the Explorer Bars collapse menu. The browser history will open in a pane on the left side of the Internet Explorer window. In FireFox, simply press the CTRL+H keys on your keyboard to open the open its history in a new pane.
Step
Read through the list of URL items in the browser history folder, and locate the URL item that reads "search.yahoo.com" in both Internet Explorer and FireFox.
Step
Right-click the "search.yahoo.com" URL item, and select the "Delete" action. The search.yahoo.com URL is the base URL for all Yahoo search results. Any search results related to this URL will also be deleted.
Step
A warning box will prompt you to confirm the action. Click "Yes." The Yahoo search results will be permanently deleted from the browser history.