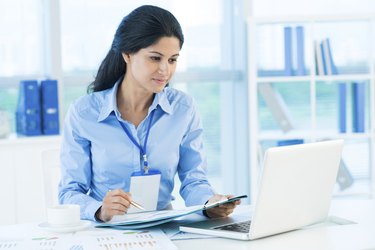 When using the Firefox Web browser, you can use the main Firefox "Options" section to entirely disable the update feature, though selecting this could lead to serious security risks. In the same "Options" section you also have an alternative choice, where you can set up Firefox to check for updates and then request permission to download and install them.
Disabling Updates
To fully disable Firefox updates, click the main Firefox menu button, which is the button in the top of the screen that has three horizontal lines on it. Then click on the "Options" icon, which is in the shape of a gear. A window pops up where you click the "Advanced" option and beneath that the "Update" tab. Click the "Never check for updates" option and then click the "OK" button.
Only Check for Updates
Another option you may prefer is to instruct Firefox to check for updates without automatically installing them. When updates become available, you see a pop-up window asking if Firefox should download them. You can then allow Firefox to download and install the updates or you can disallow it, in which case Firefox asks again later. If this is what you prefer, click the same "Updates" tab you use to entirely disable updates and then click "Check for updates, but let me choose whether to install them" and click "OK."
Important Warnings
While you can disable updates, this potentially puts your computer at risk for malware, such as viruses, as well as incompatibility issues. Malware can damage your computer's files and possibly steal your personal or financial information, causing serious problems. Incompatibility issues could mean that certain websites do not display properly or it could mean add-ons may eventually stop working. Add-ons include features such as buttons on your toolbar that check the weather, manage passwords or perform other tasks. Additionally, note that if you're not the user who installed Firefox originally, you must be a Windows Administrator to change any update settings.
Final Notes
Even with updates entirely disabled, you can manually check for updates, perhaps when you have access to a faster Internet connection or won't be charged for data usage. You do this by clicking the menu button and then the help option, which is a button with a question mark inside a circle. A new set of options displays, where you click "About Firefox" and followed by the "Check for updates" button in the window that appears.