Disabling tessellation in video games can increase the frame rate, though the quality of the graphics might suffer. Tessellation, introduced in DirectX 11, allows simple polygons to be subdivided into more shapes to create sophisticated and detailed surfaces. For example, in Arkham Origins, Batman's cape is tessellated so that its detail dynamically increases or decreases as Batman's distance from the camera changes. You can disable tessellation either in the individual game or -- if you have an AMD based graphics card -- in the Windows Control Panel.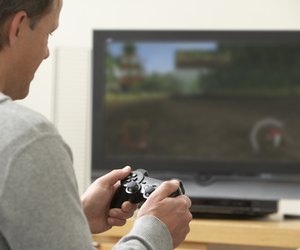 credit: Monkey Business Images/Monkey Business/Getty Images
Per-Game Settings
Step
Launch the game in which you want to disable tessellation. Wait until it loads to the initial screen.
Step
Select Options or the equivalent for that game -- it may be called Settings or something similar. Navigate to the Video options. Find and select the 3D Quality menu.
Step
Adjust the quality automatically -- if your game supports it -- by setting all of the video settings to a lower detail level. Many games allow you to choose quality levels such as low, medium and high and will adjust all the specific settings for you.
Step
Find the tessellation setting and set it lower or off, depending on your experience. If you lower the tessellation, the texture of complex items will smooth out, so instead of a bumpy, rough stone it will appear smooth. Work the setting down in increments until the game plays quickly enough but still looks good. If any tessellation at all makes the game unplayable, turn it off completely.
AMD Settings
Step
Press the Windows Key or swipe from the right side of your screen and type "Control Panel." Select the "Control Panel" icon.
Step
Select "Hardware and Sound" from the categories and then select "Catalyst Control Panel" from the Hardware and Sound page.
Step
Expand the "Gaming" menu in the list on the left of the Catalyst Control Panel window. Select "3D Application Settings" and scroll down to Tessellation.
Step
Remove the checks next to "AMD Optimized" and "Use Application Settings." Slide the tessellation bar to your desired level. All the way to the right is 64-times tessellation and all the way to the left turns tessellation off. When you're done, select "Apply."