It's exciting when the new television gets delivered, until you realize you don't know what to do with the old one. Many recycling centers won't take old TVs because there is little financial benefit to recycling a television. There is little in them that can be reused and they are full of toxic materials. An average television holds four to eight pounds of lead, according to Dave Mazza of the Pennsylvania Resources Council. Tossing a television in a landfill has serious environmental consequences and is not advised.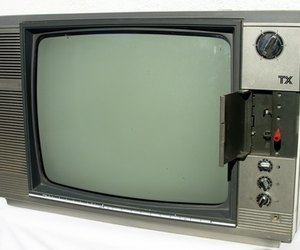 Step
Ask the salesperson about TV disposal if you are purchasing a new set. Some companies will pick up older television sets for disposal when they deliver a new one.
Step
Contact the major electronics retailers in your area. Some larger companies provide a for-fee haul away program regardless of where you purchased the TV.
Step
Call the manufacturer of your old TV and inquire about their recycling program. The website Green Your explains that at least one major television manufacturer offers a return program and will take back older models for environmentally sound recycling nationwide.
Step
Contact your waste management company and ask about the options available for disposing electronics.
Step
Donate the television if it is still in good working order. Charity-run thrift stores, churches, community centers and nursing homes are a few places to contact.