The found at the bottom of every Gmail composition provides style settings including font color, bold and underline, but you won't find an option for strikethrough. Gmail doesn't include a way to strike out text, but that doesn't mean the site is incompatible. Use another program on your computer to create strikethrough text and then paste it into an email.
credit: Image courtesy of Microsoft
Open Microsoft Word and write the text you want to strike through. Select it and click the Strikethrough icon in the Font section.
Press Ctrl-C to copy the selected text from Word.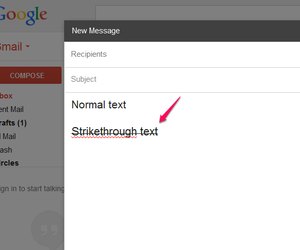 credit: Image courtesy of Google
Place the cursor in a Gmail composition and press Ctrl-V to paste the text. Write the rest of your email around the stricken line.
credit: Image courtesy of Google
Set the font and text size for your entire email if you want the pasted text to match the text written in Gmail. Select all of the text in your email, click the tT icon and choose Normal to set the font size. If the typefaces don't match, open the Sans Serif drop-down menu and choose Sans Serif (or another font).