Finding an available email domain in order to create a custom email address is no different than the process involved in finding an available domain name for a website. A domain name can be used for a web address, email address, or both. In an email address, the domain follows the "@" symbol in the address. In the mock email address, BRoberts@example.com, "example.com" is the domain name. A single domain name can only be registered to one entity. To find out if the domain you want for your custom email is available, check with a domain name registrar.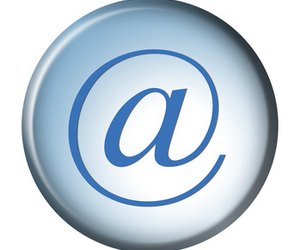 Step
Select a domain name registrar. You may choose one of the registrars offered in the resource section of this article, or pick one on your own. Every domain name registrar has access to the same information. No domain name registrar is better than any other when it comes to finding out if a domain name is available for a custom email. The difference lies in the fees each registrar charges for registering a domain name through their services, as well as any additional services offered by the company (such as web or email hosting services). Selecting a domain name registrar that also offers email hosting services will make setting up a custom email address easier.
Step
Type the domain you would like to use for your custom email address in the field box designated for domain name lookup on the registrar's website. Remember that the format of a domain name is as follows: a name, followed by a dot (or period), followed by the server type (such as "com," "net," or "org"), such as "example.com" or "example.net".
Step
Submit your request to check the availability of this domain name by clicking the button for "Search, "Go," "Find It," or whatever button the registrar's website has designated for submitting a domain name lookup request. The search will take a few seconds. If the domain you've selected is not available (because it's currently registered to someone else) the registrar may provide you with a list of alternative, available domain names that are similar to your first choice. If the domain you've selected is available, the registrar will give you the opportunity to register it through their services for a small fee (generally no more than $10 per year, but this fee varies among registrars).
Step
Use the services of a domain name registrar to register the available domain name you want to use for your email address.
Step
Sign up with an email hosting service. If you selected a domain name registrar with email hosting services, you can register the domain name and sign up for email hosting services all in one place. If you selected a domain name registrar that does not offer email hosting services, you will have to shop around for an email host.