Perhaps you have just installed AIM and want to create a list of friends to IM, or maybe you have been using the instant messaging program but just can't remember your old friend's username. Finding people on AIM when you first start using it is a little different from the method you use to search for buddies later, but both methods ensure you can locate and connect with everyone who is important to you.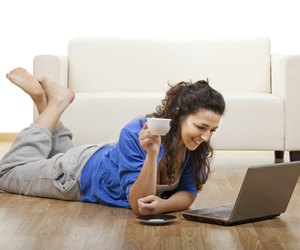 credit: erikreis/iStock/Getty Images
Find People at Setup
Step
Use the Add Friends You Already Know feature to find your friends on social media and by email. First, download and install the AIM application.
Step
Click "Connect to Add Facebook Friends" if you wish to find AIM usernames for people you know on Facebook. Allow the connection with Facebook to complete the process.
Step
Click "Connect to Add Google Chat" to find any of your Google Chat friends who also use AIM. Click "Accept" on the Request for Permission window to complete the process.
Step
Click "Invite via Email" to send email invitations to friends you want to find on AIM. Enter the email addresses of the friends you want to contact, separating each address with a comma, and click "Send."
Step
Continue to your dashboard when you are done. AIM notifies you when you successfully connect with a friend.
Find People Using Search
Step
Log in to your AIM account.
Step
Click the "+" next to Buddies or Contacts. Alternatively, click the drop-down arrow next to your user name, point to "Contacts" and click "Add AIM Contact."
Step
Begin typing your friend's full name, username, email address or mobile number.
Step
Choose the correct username from the list of results. Click "Add" to add the friend to your Buddies list.